How does one adjust the action in an electric guitar?

Join date: Sep 2007
90

IQ
Hello all.

Yesterday I got an American Fender Deluxe at GC for 800... however the action on the E and A strings (bottom) are horrible-- it sounds like a machine reverbirating. How would I go about adjusting this? Is it a complicated procedure?

Thanks.
Join date: Nov 2007
41

IQ
ud hav to adjust the truss rod, here a link to a rlly good description of how to do so:
http://www.projectguitar.com/tut/trussadjust.htm
also on that site there is a part about adjusting ur bridge, which could also have an effect if u have a gibson hardtail style bridge (like on a les paul) cuz i know i had to lower mine once because the action was to high for soloing on higher frets
no dont adjust the truss rod.
using a tiny allen wrench, lower the two pegs on the front face of each saddle, to raise that string.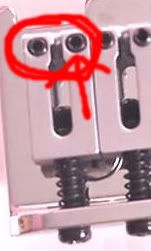 Last edited by jj1565 at Feb 19, 2008,
Join date: Nov 2007
41

IQ