yet another strat refinishing thread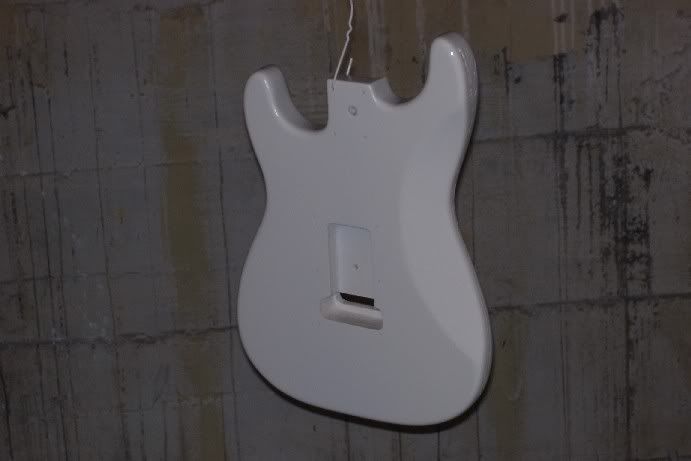 this picture was taken when it was still wet. no runs! woohoo!
anyways, should I two tone burst it with black? I mean, black on the outside fading into the off white it is... would that look neat on a strat? yay or nay?
also. opinions on pickguard/hardware/pickup covers & knobs colors?
Right now I'm considering something along the lines of
tortoise, white pearloid, or black pearloid pickguard
white, black or aged white pickup covers
I have chrome but possibly buying new gold or black tuners/bridge
something like these to compliment:
Tuners
knobs
questions? comments? I'm waiting to post the before and afters because of how far it's came. This'll be the only pic till it's done.
but what about the black/white 2 tone burst idea?
Last edited by jedilley at Feb 29, 2008,
all white strats with gold hardware look the bollocks.
blackburst would take another week or so as I would have to purchase more paint. it would be my first two-tone concept if I went that route.
basically this guitar came in a kit already grain filled, and it was finished once by me, and now being finished again.
the headstock was a blank, so I freehanded it and put a number of hours in on it with sandpaper. it's already been finished but I think I will probably spray it with a semi amber tinted clear coat, either that or keep the blackburst idea going (and buy more paint... I'm almost out of the aged white.)
This has been a budget project... taking near 7 months now. +1 for roller string trees and graphtec (sp) string nut.
overall sound of it will be a straight up alnico fueled S/S/S strat. Not going to try to make it sound like what it's not going to lol. This guitar actually is very resonant, and can be heard acoustically very well. lots of sustain too, but I think the way I blocked the trem had some sort of effect on that.
near the end of the first sanding stages:
finished right now: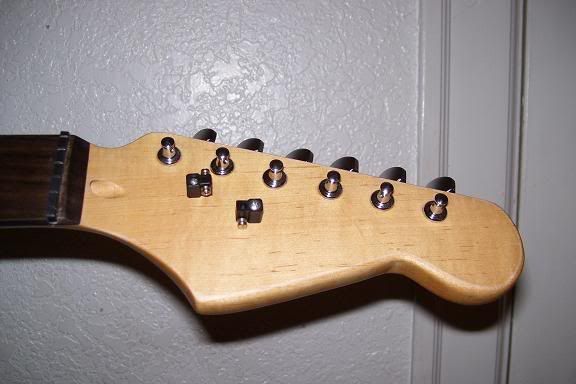 darker tinted, or blackburst? which do you guys think?
I sanded out the filler and then sprayed it with semi-gloss. as you guys can see, it's barely darker than the open wood was.
I sanded out the filler and then sprayed it with semi-gloss. as you guys can see, it's barely darker than the open wood was.
Yeah, leave it that way. Painted and odd-stained headstocks make me sick to my stomach.
I'll re-edit this post later with some pics. Busy work week meant no time on the guitar. But, it netted me a raise and a promotion, so rock on.

anyways, long story short, lots of sanding. I'll have new pics tonight. Then more paint, and if all goes well, clear shots and final sanding. I'll need to buy more sandpaper for that... ugh.

A labor of love it is.

PS: I bought a 1/4 sheet palm sander to aid me in my sanding. Convenient.

and no body commented on the slight bevel to the top/side edge of the headstock. I thought it looked neat as I was progressively making it.
The bevel makes it look slightly different! How about the nut? That looks like plastic ... get a Tusq or a bone nut, or even a Graphtec.

it IS a graphtec nut. I commented "+1 for roller string trees and graphtec nut"
So I bought the guitar body and had an idea. Why not try carving some interesting designs on the face/sides? Took my dremel to it and this is what I came up with.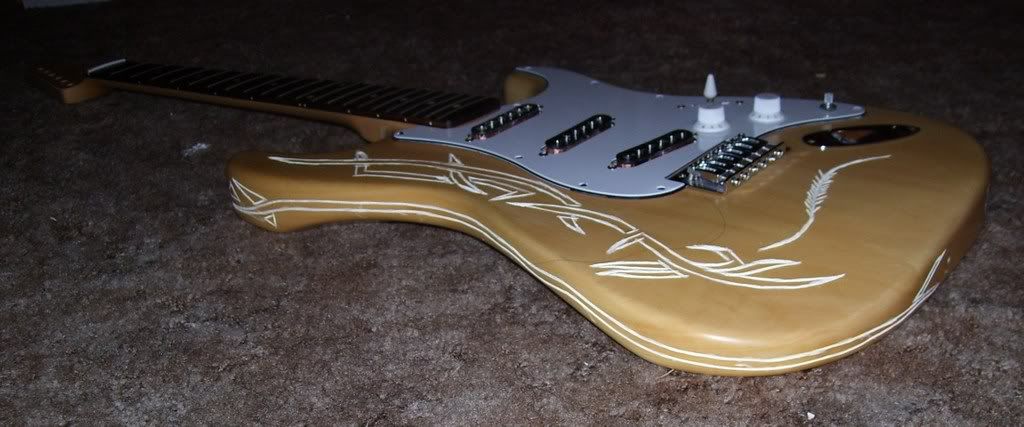 I painted the channels with white acrylic paint (by way of thin brushes) and then put on a couple semi-gloss clear coats.
After a number of months, and not being completely finished (no electronics) I decided I wanted to try either a white or white/black blackburst.
and there it is now. Better, not perfect, but better. You can barely see the remainders of the channels. The wood putty I tried needed to be thinned out a bit, and I didn't have the chemicals required and couldn't get them at the time, so I just kept going. Painting, sanding...
I had it done up in something like blackburst, lol, but it looked so terrible that I sanded the whole guitar down to bare wood and started back over.
I like automotive metal primer because it cures super quick in comparison and is easily sandable. This process on this guitar has been success and failure but most importantly learning experiences.