Morely Tripler - EXTREME HUM
I ordered this pedal about 2 weeks ago to replace the morely A/B/Y box that I had. I returned the aby box because of an unnecessarily excessive amount of hum. It was really loud, probably as loud as a teacher speaking for a class.
This pedal has the same problem. I read a review where someone stated that removing the paint from the inside of the pedal will ground it which causes it to have less hum. I sandblasted the inside and removed a nice bit of paint. I played with it a little with both amps on, poking around with the ground and such. The ground was never a problem, when it was ungrounded it had extreme static + extreme hum. Now I'm left without a clue as to what the solution is.
I contacted morley and all they wanted to do was sell me the HUM X wall wort. I don't see how this is an improvement from the power conditioner I've tried, different outlets I've tried, different guitars I've tried, or diffferent amps i've tried.
Any suggestions? Idea's on what I could replace, remove, or something?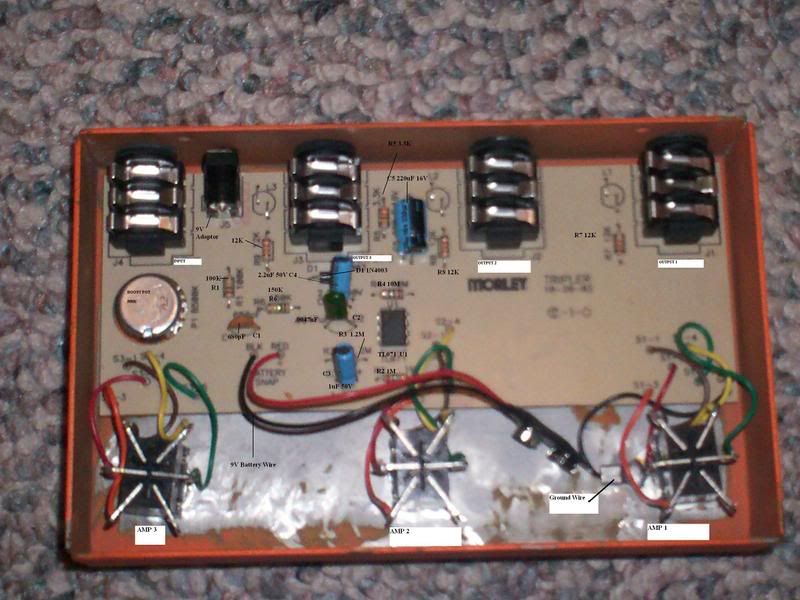 Photobucket really zoomed out on the pic I had taken, if anyone knows links where I could upload larger pics, that would be great.
Bump


I need some suggestions big time, this thing is killing me.
Thanks man,

so basically I have to make it true bypass?