My Little Giant has arrived
Here is a photo of my Blackheart Little Giant 5. I am running a Nano Metal Muff-->Boss GE-7 EQ-->Little Giant-->2x12 cabinet converted from an old Peavey Classic Chorus 212 loaded with 2 Eminence Texas Heats. The old classic chorus has had the the amp section removed and the rear and amp section sealed off with wood to create a clsed 2x12 cab. The Texas Heats have a high (100) spl rating and are therefore quite efficient for use with this amp. Let me tell you, what they say about 5 watts being loud is oh so true. I run it in the 5 watt mode and even with the slider on my EQ at the lowest level, I can only turn this thing up to about 11 o'clock before it gets too loud for in house practice. This thing is the ****e for sure. It has beautiful clean sounds and with the muff in front, really sounds tough as nails. I love it and couldn't have imagined how good this thing would really sound.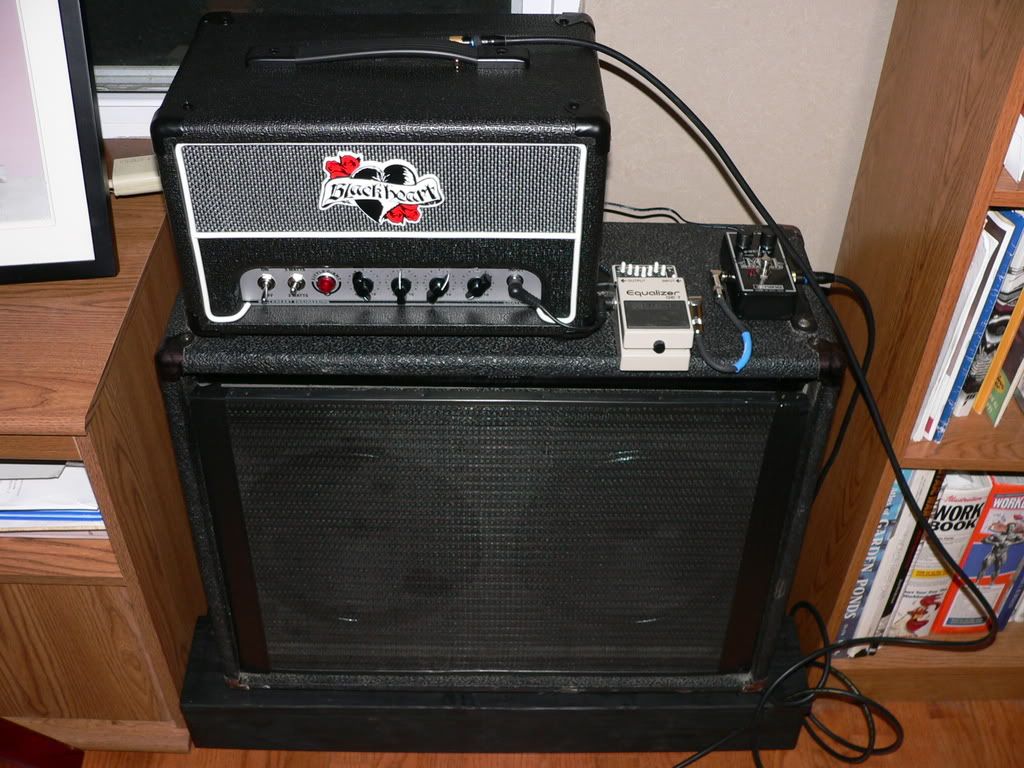 Join date: Mar 2005
10,367

IQ
Congratulations.


Join date: Jul 2007
72

IQ
Join date: Jul 2007
10

IQ
I see these going for $150 so I'm gonna have to get one of these. How well does it sound with the metal muff?
Very nice, but your EQ is backwards

Very nice, but your EQ is backwards
Lol, thats the first thing I noticed and I though, uh oh, mad scoopage.
Anyways, i'd love some sound clips.
This thing sounds very very good with the metal muff. And as far as the EQ, who's to say it's backwards? I like the way it sounds so that's all that matters. I'm not much into a heavy mid sound. I may try it the way you guys think and i'll let you know, but from experimenting in the past with my old amp, I don't think i'm going to like it.

Join date: Jun 2006
70

IQ
I don't have the capability right now for sound clips, but if I can, I will.

Join date: Jun 2007
80

IQ
I dont like a lot of mids on my sound either. It just sounds twangy and country. Of course I don't like having no mids though because it doesn't cut through any. Just a nice medium.
I have to agree with you there. Besides, I don't play out, just diddle around at home so I don't have to worry about cutting through, just being happy with my tone. I am by no means a serious musician, I just like to goof around and have fun. With this little giant, I have never been happier with the way my playing sounds. I have always wanted to get a 5150/6505 but because I just am a casual hobbyist, I never could justify the cost of one of those amps with a family and all that goes with that. I have to say that with the setup I am running, I am as close to that 5150/6505 tone than I ever could be without actually having one. Heck, my wife even said to me yesterday that my tone is the best she has heard me have ever, and she's not really into what i play that much. I know alot of the posters here may not believe it, but this thing really has the the 6505 tone for a whole lot less cash. I'd say I have about $450-$500 invested in this setup and I couldn't be happier. Yeah, I know that I could get a used 5150 combo for close to that, but my stuff is new and I am very proud of the tone I have created, let alone for my use a 60-100 watt combo is waaay overkill.

Join date: Mar 2006
70

IQ
Nice!