Tanglewood Warrior II electronics
Hey,
I've been playing my current bass for about six months now, and it's pretty damn good. However, it's got a rather odd electronics setup, and I'd be interested in knowing what other people think of it. It's got a single passive humbucker, but two volume controls and one tone control. Blatant Warwick ripoff, mahogany neck and ash body.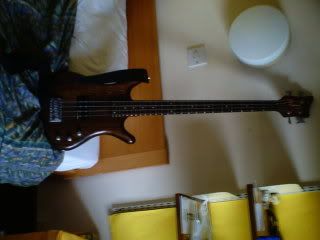 What do the two volume controls do? Does each one control one half of the humbucker? Or does each one affect the volume of the pickup poles under the top two/bottom two strings?
When using it, I've noticed that one has a far, far greater effect on the volume than the other (the first knob), and gives a very low-end heavy response, while the other affects the tone a lot more and gives a clearer, more trebly sound. Then there's the tone control, which affects the volume to some extent as well.

All three of them have a distinct point at about 1-2 where they kick in very considerably-it's not a smooth curve from 0-10, it gets a lot louder at about 2 and then smoothly increases.
Does anyone have experience either with the bass or with one with a similar setup? I'm able to get a good sound out of it, but I'm still confused by how it actually works.