fs/ ft; 50th Anniversary Fender Hot Rod Deville 212 amp
i have a fender hot rod deville amp that was made in 1996 and has the 50th anniversary sticker on it. its a 60 watt with 2x12 inch speakers. the amp is in great condition and kept in a smoke free house. there is only a small tear on one of the corners and thats it. it sounds great and has semi new tubes in it. ive played the amp for a long time and ive NEVER had problems with it. comes with the footswitch. i can provide more pics if necessary, any questions, feel free to pm me. looking for the highest offer or best trade. all offers welcome.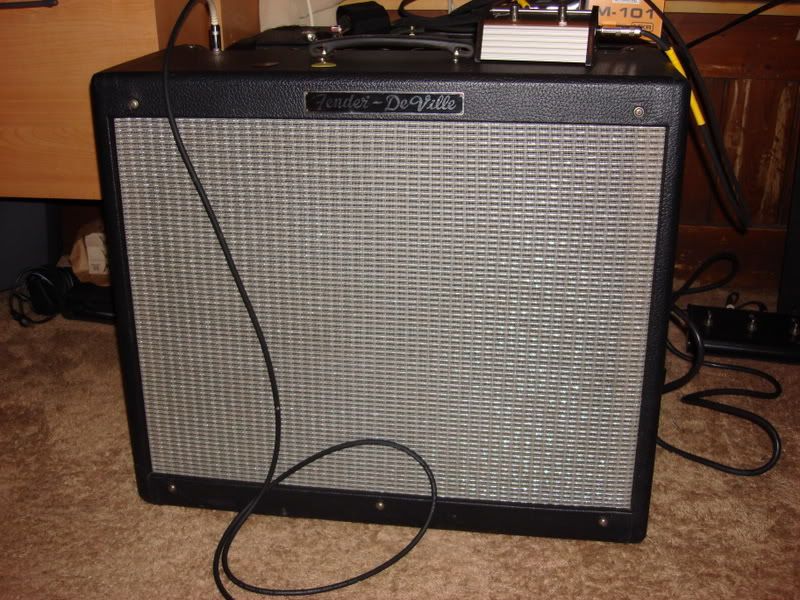 would you be interested in a trade for a black RR3 guitar? let me know.
how overdrivin does this get more than a Blues Jr.?
i would say yeah. its got some really nice overdrive
ah so waht kind of trades you looking for

also how much in cash would you be looking for?
looking for any marshall or peavey combos, guitars, really up to anything. im not sure on the price, how much are you willing to pay?
I dunno I don't have enough I was just wondering..
but lemme think about the trade stuff just wait

so your looking for something worth around 450 500 for it?
Last edited by Bostonrocks at Feb 24, 2008,
I may have an Ovation acoustic worth around 450.

I would really like this amp so please get back to me.

thats the best I'm gonna be able to offer
im going to have pass. my wife got me a martin 12 string a fews days ago. thanks though. do you have anything else?
nope thats the best I'm gonna do sorry

you don't need a six string?? lol jk

+1 to the martin. good luck on selling this amp its a beaut.....


*walks away from thread crying*

I do have a original princeton chorus......its SS though but some of the best cleans I have EVER heard.
i need an amp with a lot more gain but thanks though. sorry we couldnt work it out.
I C well good luck selling that thing
never got a pm but tis looking like its gone in a trade.
hey man is the amp still up for grabs? i have a jackson RR3 for trade or cash. please let me know ASAP.
oh and sorry i guess i never did PM you back, but i just did on the 25th. i am really interested. thanks.

-chris
im really looking for a combo amp or strat, tele, lespaul, stuff that. does not matter the brand

Join date: Dec 2007
50

IQ
oh so youre not intereste in my jackson?