Fret Buzz quick Question

Join date: Feb 2008
10

IQ
Friend of mine picked up a Mexi-Strat. Pretty decent guitar. But on the D string and sometimes the low E it has this horrid buzz.

so i took a pick and slid it down one of the fret bars to see how much room there was to see if that was what was causing it. Low and behold once you get to the D string- it's so low that you cant even slide the pick under it without some maneuvering. Is this normal for strats? I told him since he just bought it to give GC a call and see if they will set it up or adjust the action or something to make them all even and not so freakin close.

was i correct in telling him this?

Join date: Jun 2004
10

IQ
don't waste the money on getting it set up, tell him to grab an allen wrench and fix it himself
just get a tiny allen wrench and raise those strings by turning the two pegs on the front face of each saddle.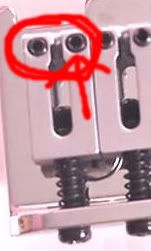 Join date: Feb 2008
10

IQ
Oh, awesome. Didn't know you could do that with strats- i read the fret buzzing thing, but dont have a picture of what he has fresh in my mind. Thank god it's so easy- he's a lazy ass with learning how to play :P

Thanks for the quick responses.
ok i found you. you lower the screw to raise that saddle. you cant mess this up provided you turn slowly and watch the saddle raise up. this can always be reversed.
and clockwise will lower the screws and rasie the saddle, yes.