Can anyone help me track the year of my guitar
I've done some reseach but it's not adding up, so if I give you the clues some of you might know more...

It's a Greco Les Paul
The Greco logo on the head has a closed "o"
The serial number is printed in Black on the back and is: 2 4 668

Over to you....
Perhaps I should have titled this "Female in Need"

Last edited by SmilerO'Rocker at Feb 29, 2008,
where did you get it???? looks interesting, i dont know much about Les Paul copies but a pic of the headstock (front) would be nice.
when did you get it?? my guess is the year ended in an 8. 68????
I bought it from a local musician the other day. He thought it was a 1981 rare Japanese Greco made at the Ibanez Factory.

I'm afraid the camera is messing up so the pics aren't that clear but the numbers are printed in black at the top of the back of the head. There's no letter which I believe letters were introduced in 82? I could be wrong on that. Most of the codes go Month*Year*Production no with (I think) either one space after the year or no space at all.

It also says Rock Spirit on the front,... I'd forgotten about that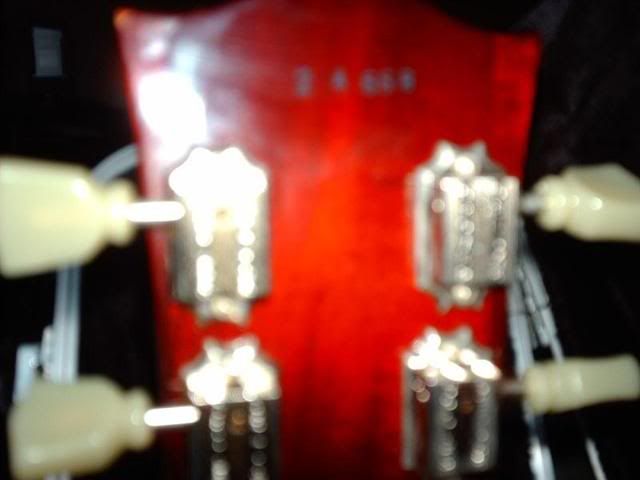 Well, can't say I can help you date it, but I gotta compliment you on it anyway. Beautiful guitar you have, ma'am.
Thank you, it's in perfect nic and it plays BEAUTIFUL through the Marshall, mind you, what doesn't! It's got a lovely small neck and is probably even more comfortable than the SG and I never thought I'd say that.