BOTM (March '08) EB Musicman Stingray FL
ERNIE BALL MUSICMAN STINGRAY (FRETLESS)

Here is the favourite bass in my possession, my Ernie Ball Music Man Stingray Fretless. It came to me as a very slightly used consignment instrument (in fact the warranty card was still in the case in a pristine state). I had accompanied a buddy who wanted look at some guitars, and I found this gem in the rack. It was one of those basses that felt good the instant you placed it in your hands. Yes, it was love at first sight and a good deal at 900 USD. (Though I have since been verboten to go to music stores with this particular friend unless I leave the credit cards behind&hellip

. Excuse of the quality of some of the pictures; I really need a new camera…
Ever since I saw Christopher Brubreck play a fretless bass, I'd fallen in love with that luscious mwah, that some describe as being close to a human voice. And when a friend loaned me a copy of Japan's Tin Drum and I heard Mick Karn's distinctive fretless bass lines, I was hooked for life.
Another full shot:
According to research, the serial number indicates it was a 2004 model. The bass has a vintage sunburst finish with a stock black pickguard, and is 34" scale / 21 frets. The neck is bird's eye maple and has a pau ferro unlined fretboard. I am not sure of the body wood; I have been told its likely ash (EBs site describes it only as a "select hardwood&rdquo

. The neck is bolt on with six bolts. While heavier than my Ibanez, it's not ungainly and the weight is well distributed. . The neck, while not slim, does have a great fast feel and is a dream to play.
Picture of the Body…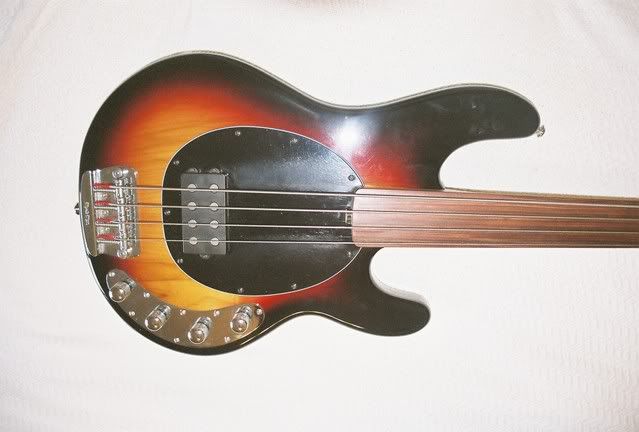 And the back: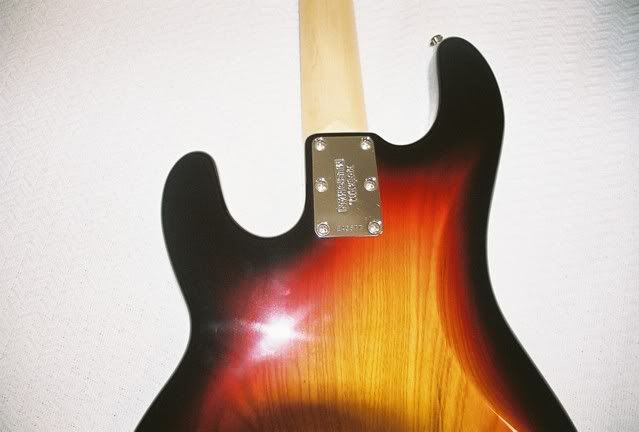 The tuners are Schaller BM, with tapered string posts, and it has the stock Musician bridge. The "wheel" truss-rod system makes truss rod adjustments a breeze (though to be honest, I usually leave that to the luthier...)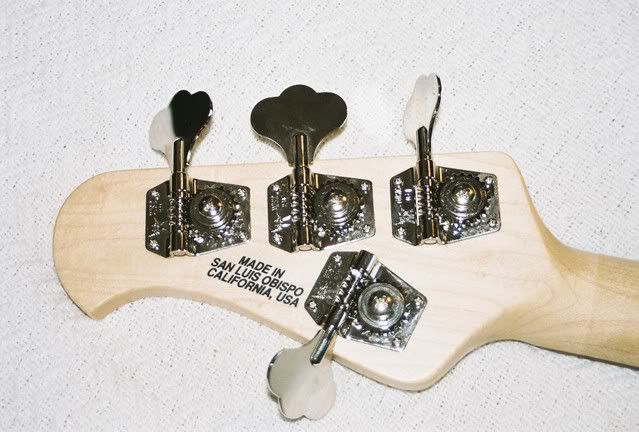 It sports a single humbucker pickup, with 3-band active preamp - volume, treble, mid, and bass. The overall impact is that the usual 'mwah' of a fretless has that growling character of a Musicman, which gives it a nice singing quality. Right now, it's strung up with flatwounds (for a more traditional jazz sound), but I've had roundwounds on this bass and it really voices well as a solo instrument in that scenario. There's a truly awful sound clip on my profile; I'll try to get a better one posted soon.
I use this bass to play Jazz, Rock, Alternative (think Japan or Matthew Seligman) and a bit of R and B (i.e. James Jamerson, Duck Dunn). The only issue I have with the bass is that getting the intonation dead on is a bear; much more so than most of the other fretless basses I have played. However, with enough practice, the benefit is that the bass will train your ear, as well as teach you the novel approach of sliding into notes as a technique. I love this bass and don't regret the impulse buy during that lunch hour visit to the music store. Cheers!
Last edited by anarkee at Mar 1, 2008,