Denim Guitar!!!
NOTE: If your going to try and make one post ur pics here!

SPREAD THE WORD!!!

READ MY STORY!!!!
I sent this to Gibson.....
Now here's the catch gonna Need your feedback and
SUPPORT
!!!(Maybe to get proof too, im a devilish little child!!hihi..)

Doesn't matter whether you dig it or not,,just need opinions!! i wont curse anyone(well maybe,lol)!!!
IT DIDN'T AFFECT THE TONE OF MY GUITAR!!!

""COZ ITS NOT PART OF THE WOOD
(regards to Dime from another forum site)!!!""
Hello,
I'm Bruce Sakaki, 18 yrs old, a student and currently living in Singapore, I have this guitar suggestion, now here's my story, while I was going through my stuff I found these old denim pants that won't fit me anymore, now my guitar was messed up, I spray painted it (not a good idea), since I found this denim pants, I said to myself "Hey, I wonder, How can I get rid of these paint", now I looked at my pants and thought of this idea, since I haven't seen ANYONE IN MY ENTIRE LIFETIME with this kind of idea/concept from International Acts, Local Musicians or even in T.V/etc., "What if I cover my Guitar with Denim??", then I tried it of course, on my first attempt I made a cover for half of my guitar's body, then it was a success, since it was a successful attempt, I was thinking "How bout cover the whole body!", then, "YEAH! It's finally done!", since I ain't Pro at sewing it took me 10 hours to finish it, woohh, I was in pain after doing that, ,now here's the catch, since no other guitar company has made one (I dunno if some company or someone has actually made one), how bout make one, my friends dig it, maybe people out there will too, Pros about this idea is after the guitar is covered with denim, owner can customize it more, the way they want to, maybe buy some fabric paint or put some band patches. Cons are if the user is careless the guitar might get stinky or dirty and if the body breaks or has a crack on it the owner will/might tear off the denim (solution for this is zipper on the side). I still got ideas on my shallow head. Now here's the picture of my finished product (my guitar is an LP copy):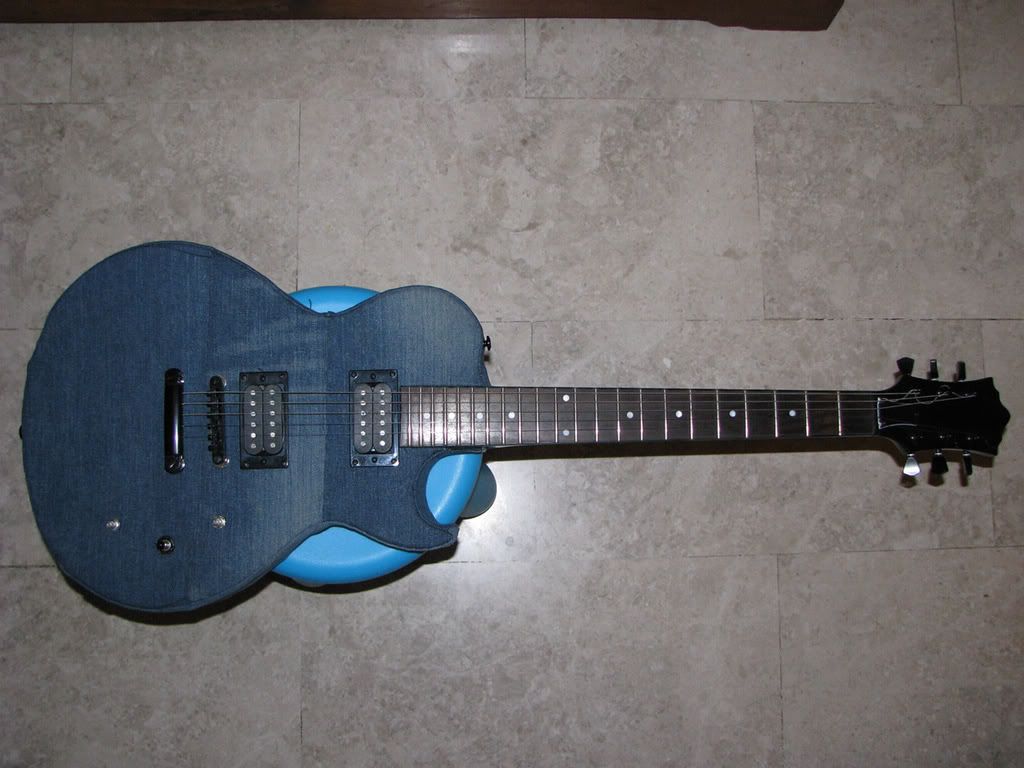 FELLOW UG USERS I NEED YOU!!!!!!!!!!!!!!!!!!!!!!!!!!!!!!!!!!!!!!!!!!!!!!!!!
Last edited by brucee at Mar 4, 2008,