Slight Fret Buzz..Corrected?
I was playing my new strat the other day. I hit the strings the strings pretty hard, especially when fretting,and the action was low on the E,A,D strings, i raised the saddles, just a hair (there were not two screws on each side of the bridge like other strats) but i raised the strings just a tiny tiny bit, not even enough to notice. My question is, will this pose as a problem. The neck seems fine, it doesnt seem warped or bowed. I compared it with my other guitar, and my friends and both seem to feel and look the same (he just bought his too). It stays in tune fine, feels fine, no fret buzz anymore. I was just wondering because i raised the action on the strings a tiny bit, will this cause any problems. I played all day and it works fine, and plays well and i have no problems with intonation. Just wondering.
usually with a strat action is raised by using a tiny allen wrench on the twp pegs on the front face of each saddle, to raise that string.

did you adjust the bridge screws at the corners? if so they are just the screws holding on the bridge, where the bridge pivots when trem bar is used. and as long as it's not too loose there isnt a problem.
no bridge screws in the corners on my MIM dunno why. But as far as the pegs for the strings, they arent loose or anything like that. Everything seems to be working fine. I just always hear abou truss rod problems and what not, i have OCD and im always paranoid about stuff. lol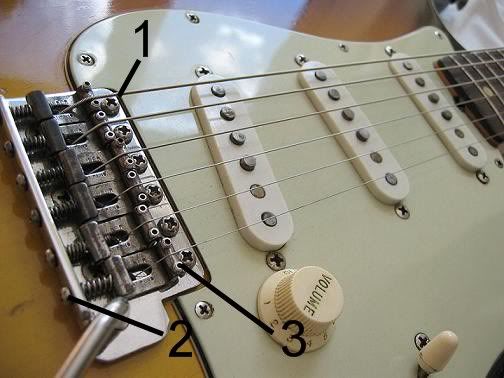 just to be clear, what number did you adjust?

and truss rods get messed up when guys crank on them. they are usually located on the headstock.
yeah, i know, i didnt mess with the trus rod at all. I adjusted 3 and 2, but just a bit. I needed to adjust 3,2 on A,D,G. I hit the strings really rough sometimes, and they buzz was just driving me nuts. Its been playing fine. I check the tuning and it hasnt gone out of whack or anything. So im pretty sure it's A.O.K, but i could be wrong. Im no guitar tech. I only adjusted the springs a hair, and as for the pegs, those wernt drastically increased except for the D string.
ok that's cool. 3 is for action and #2 adjusts the tuning along the length of the board. (intonation)

so if you find that the guitar is in tune with an open note, but out of tune when fret at the 12th, repost and we can help you out there.