Ibanez FS
I don't know how much this is worth so I will go by offer only it is a black Ibanez V-blade. They are now discontiued in the 2008 Ibanez models. The case is a coffen case. The guitar has dimarzio d-activators and is in perfect condition. There is no shipping and you have to pick it up or I am willing to drive to you to sell I live in the midwest Nebraska Iowa area.

Pictures will be up tomorrow but I insure you it is in perfect condition.

Feel free to ask questions

$500 and considering trades.
Last edited by 80sShred4TheWin at Apr 6, 2008,

Join date: Jul 2005
80

IQ
Evo's are NOT d-activators.
oh I heard somewhere they were honest mistake and will fix it
Now that I have a picture maby someone will give me an offer and I can get more pictures if needed.
i'll trade you a DECKED OUT Schecter Avenger 7 string. it's got dimarzio's and all new elctronics professionally installed. mahogany body, maple neck, graphtech saddles. let me know if you're interested man.
na I want 6 string or cash but you could sell that and then buy this
What type of 6 strings, I mostly have strats.
Depends what type of strat but im mainly looking for a Jackson, Charvel, or Kramer but depending on colors and type of strat I might consider so post pics
I have a blue mim strat, and a seafoam green modified fender delonge strat. I'll post some pics if youre interested.
post a pic of the sea foam green and wear do you live I would like it to be local if at all possible
Im in pennsylvania. Heres pic of the guitar, Ive got more if you want.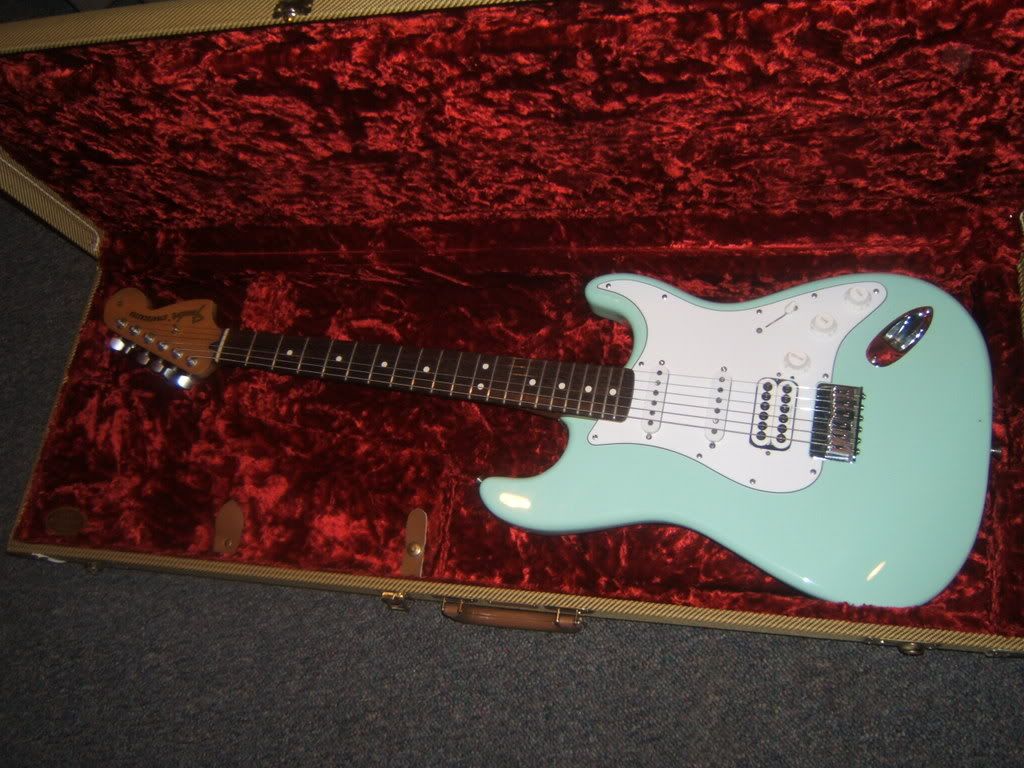 Dude I want that guitar, I live in fremont,nebraska, How much do you want for it?
Dark Aegis im not a fan of that type of fretboard on a strat sorry

Lethal Dosage PM me and we will talk price more but I bought the guitar and case in fall of 2007 for $750 so $550 would be nice if we could meet sort of walfway at walnut around the city Atlantic Iowa it would be nice but just pm me and we will talk price and location more
Now considering seven string trades and some amps will add money if needed for some trades.

Still considering six string trades.

Also considering some pickups and other guitar parts.

Join date: Aug 2007
120

IQ
well, i have an ibanez xiphos collectors edition? if ud b willing to ship we could work sumthing out
no I am not a big halo fan
you could buy it though after you sell your guitar
I would love to buy this but I dont have the cash at the moment
Join date: Dec 2006
86

IQ
Trade for a Schecter Damien FR w/ gold trem?
lethal how much do you have and will you have it soon becaouse I might be able to hold it tell you can buy it.
no I don't want a schecter

I know i siad $550 but price is negotitable depending on if you pick it up or if I have to drive to you.
Last edited by 80sShred4TheWin at Mar 11, 2008,
Well like I said I live in fremont,nebraska, and Im not exactly sure when I will have the money, I get paid this friday but I have to fix the oil pump in my car with the money, If you give me like a month or so I could probably buy it.
ummm I didnt receive it lol
ok well I will try again and if that doesn't work we will have to email
lethal dosage hassent responded so still for sale and price is flexible also will consider trades for amps, jacksons, charvels, and kramers. Will also ad cash to deal if your trade is more expensive then mine
Lethal Dosage said he probly will not have the money so it is still for sale.

Also a price drop $500 for guitar and case pick up in Ankeny Iowa pm if interested.
nice guitar, if only you were interested in a schecter
what sort is it there is one shecter I like maby you have it