Fender Strat Mutt
This is a parts mutt. The neck is a 2007 MIM Fender Strat maple/maple neck with absolutely no fret wear. It was immediately taken off of the Strat and sent to me. I'm not sure where the body was made. I had the body professionally painted in a nice black. There are two spots on the butt and top horn of the guitar where the clear was buffed a little too much and turned white, very small spots, though. The strap buttons are chrome Schaller's, sorry I do not have the locks. All parts, except for the strap buttons on the guitar are brand new.
The following parts were purchased from GFS:
1. Neck plate and screws
2. Tremolo
3. Pickups are GFS calibrated Lil' Killer rails set
4. Plastic mirror pickguard
5. V/T/T black knobs - The knobs sit a little high off of the body of the guitar.
6. Jack plate
The pots and 5-way switch were installed by my tech. The pots are 500k CTS.
The selling price is $400.00 shipped in a padded gig bag. I am also looking for trades. You know me, always looking for those shredders. Charvel, Jackson, Kramer, etc...let me know what you may have.
This is for the US only.
Thanks,
Alvin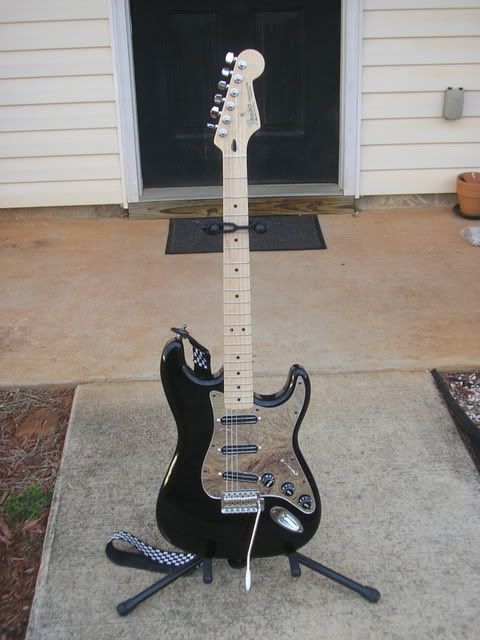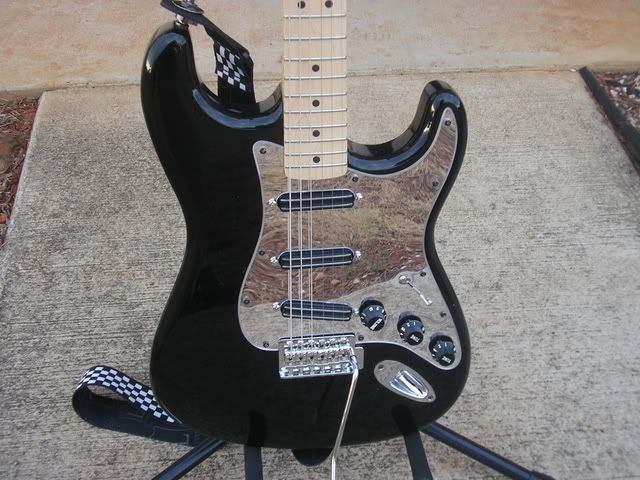 Join date: Jun 2007
20

IQ
i have the same strap, =P

And I must say, I really hate strats but I actually think this one looks pretty nice.