where can i go
to get my guitar set up

i just want to lower the action a bit and i dont want to **** it up myself so i'll just send it in

can guitar center do that? if so how much will it cost? if not, where can i go?
look in the yellow pages for like a single guy who fixes guitars. I got my crappy strat-copy all tightened and the action fixed and a whole bunch of minor fixes for like $25 which was awesome. Go with independent people, it'll probably be cheaper.

Join date: Feb 2008
90

IQ
+1 to shpangler.

If you cannot find some independent tech to do it for you, you can still go to any given guiar store, they usually have a guitar tech around.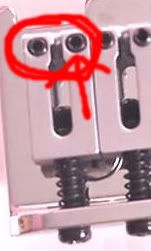 if it's the strat then take a tiny allen wrench and lower the strings that feel too high, by raising the pegs on each saddle.
guitar center Fs up guitars all the time, just lower the action.