Buzzing after restringing MIM strat?
I just got the strat about a month ago, and the fender bullet strings lost their tone and started showing obvious physical imperfections pretty quickly...

So i changed over to what i use on my other electrics, Elixir AntiRust Nanoweb super lights (9-42s)

But now most of my strings buzz with a moderate strum or picking while fretting on the lower frets...more so near the nut, but the buzz is decreasing in severity all the way to perhaps the 7th or 8th fret.

A few possible culprits?

a) the nanoweb coating, though thin, is thick enough to have made a difference?

b) Perhaps i was incorrectly advised on what MIM strats come stock stringed with gauge wise? i thought it was 9s?

c) i recently removed all of the stock strings to add some wiring and a kill switch under the pickguard. Strings were off for a total of perhaps 2 hours, but it has been 3 or 4 days since that, i would think any neck changes encountered while stringless would have adjusted back by now?

any other ideas are welcome, as well as possible fixes? Move up a string gauge? Down a gauge? Has there been any re-occurrence of MIM strats with nuts routinely cut too low?

Thanks alot in advance! I love this guitar alot and this new problem is very very annoying.
you can lift the strings a little.
tiny allen wrench on the front face of each saddle. lower the pair of pegs to raise that string.
if you are still getting buzz that goes thru the amp, or if the action feels really high then repost.
also, look at your bridge, it should be flush against the body of the guitar for a tight bridge, or slightly raised for floating.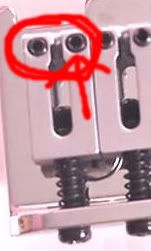 This always happens with new strings. Just wear them in a little and it will stop. Mine always do.
I have adjusted the saddles to raise the strings up and it doesnt have an effect.
The bridge itself is just a regular tremolo, and it leans toward the neck. Closer to the pickups the bridge is flush with pickguards level.... On the back end near the output jack, the bridge is prob 5-7mm from the body.
see picture.
picture

Join date: Feb 2008
20

IQ
Shouldn't the bridge be level with the guitar?
thats what i kinda figured, but im not familiar with strats and how they have the screws right in front of the saddles...
your bridge is lifted.
flip the guitar over, open the back trem cavity, tighten the two screws in there, and bring the bridge back down.
then adjust the action to taste and repost, with the strings and frets that are buzzing, if any are.
buzzing not transmitted thru the amp is not generally considered a problem.
example, my MIM flush
and mia slightly raised but balanced with springs in the trem cavity,
should the backend of the bridge (via tightening the 2 screws) be touching the body of the guitar, or almost touching? whats a good rule of thumb on that?
2nd question.... what are the advantages/non advantages of having more than 3 or less than three springs in the back part of the guitar?
well, good question.

strats usually come from the factory with 3. springs might be 3 in a row or in a slightly stronger "V" shape.

basically the goal is to match the pull of the strings. and fender feels that with 3 springs and the correct screw adjustement, they can balance their bridges before shipping them out to the stores.

a balanced bridge, floats for easy trem use AND stays in tune.

ok except, people change string gauges, springs lose their "springiness", and some MIM bridges dont like to float.
so, in some cases, u'll want a tight bridge, more springs. just to keep it in tune.

and in other cases, you might be able to lube all contact points and free float the bridge, completely balanced with 2 springs.

depends on the user, the bridge model, and his ability/desire to set up, and work on his guitar.
i am beginning to think my problem may partly lie in the strings, cause none of these adjustments are fixing anything, even tho they did on my prs which has the same gauge...

perhaps these elixirs arent a good call for single coils etc....

The fender bullets sounded fine, but i like how long elixirs last and keep their tone.

Is there a kind of strings someone would recommend over bullets? Or perhaps just go back to those? and lastly am i right in my assumption MIM strats come with 9s?
did you take off all the strings changing them?


and on a side note, i cant stand bullets and usually use elixers on my acoustics.
yes, its a brand new set. I removed all the bullet strings, did some wiring work, then about 2 hours later put the elixirs on.

What do u use on your electric fenders?
right now, i think i've got a set of DRs and a set of ernies, or maybe Dadds.

but i think what happened, is that your neck relaxed a little, combination of the light strings and releasing the neck tension.

anyhoo, where's the buzz? strings and what frets, and would you be interested in adjusting the neck?
the buzz goes up and down most of the neck, its not too noticeable amp wise... thats where my mentioning of the elxirs came in, it seems like they just give the pickups too much of a tin like twang sound, which sounds fine clean, but makes the distortion sound very unsettling.

But this didnt happen with the bullets.
well, i usually dont use elixers on my electrics, i dont like the tone, and yes the coating amplified, is an aquired taste. but i think the neck relief isnt helping.

anyway, you can pick up a set of Daddarios, gauge 10s and swap them one at a time,

or we can measure ur neck's relief, see if an adjustment can help those strings.


and keep in mind, strings break in and usually sound better after a few days of use.
the elixirs sound amazing on my prs. but i had a jackson that Daddarios sounded great on, and then sounded horrible on the prs.

I'll likely try some daddarios tomorrow, moving up a gauge to 10. I did check the fender website and the MIM strat comes with 9s on it, should that make a huge difference as far as intonation and saddles and the tremolo screws etc? I honestly dont remember the last time i bought a set that wasnt 9s, for any of my electric guitars :P
oh and i checked the relief with a ruler that goes down to 64ths. and it is right at 5/64 or 4/64 at the 17th fret, which is what fender recommends at least.
well, ok i'm just guessing that your neck relaxed, let's measure, so we know for sure.


fret the low E at the first fret, at the same time,
fret the low E at the last fret, where the neck and the body meet.

with both places held, look at the middle frets, 7-9th

if the string lays on the fretwire there, then yeah ur neck relaxed, not enough gap.
if the string is more than a credit cards thickness up from the wire there, then you have too much neck bend.

measure and check back in.
There is about a piece of papers width of space. maybe a hair or two more.

fender.com recommends around .010" of space, roughly a lil under 1/64, which is what i can see it is near with my ruler.
one slice of paper is low. you arent giving urself very much room. a high fret can throw you off.
you should get between 1-2 medium (1mm) picks in there.

you have very little space, which can be fine, but as you see, can also cause problems.

anyway, you can buy another set of 9s, but i suggest you let the guy put them on for you, and if he hears buzz, play dumb and ask him how to adjust the neck. if you're lucky he'll turn it once just to show you.

also, you can adjust the neck urself (i'll post instructions),and or buy 10's, completely up to you, lemme know.
i do understand adjusting the truss rod, but not on a strat yet... so specifics would be much appreciated, and i would guess it would help, if i just lightly pick notes i dont have buzz, but any kinda moderate strumming and up will cause it.

i might just take it in to a guitar center and have someone there do a setup, though i was trying to avoid the expense :P
well if it's a minor turn, and you buy a set of strings, some smaller shops will turn it for you.
it's really not a big deal. going to the $40 set up is up to you, afterall you had a raised bridge and high action, so there's a chance your intonation is also off.
im saying at this point if you arent happy with the playability of the guitar, you might want to think about a simple pro setup.

anyway, in ur case if you wanted to adjust the neck, a small 1/8" Counter clockwise turn, of the nut might do the trick. that's a really small amount. you'll want to adjust the neck then make sure you leave it for at least an hour to settle.
dont force the turn and leave the guitar in tune while it settles.

then remeasure and feel free to post again. dont turn more than 1/4" total today.
after adjusting the truss rod, it seems my fret buzzing is minimal

so thats good, and thankyou very much for ur help. read on tho...
so i put some D'addarios on today, some 9s...but like b4 with distortion on, the weird twangy noise is still there, it sounds only right when then string is plucked like when i am playing single notes.... if this makes sense it sounds like bweEEeeeooooooow... and now i just thought of trying another guitar through the same setup.... looks like this other culprit is somethin with my amp. crud.
I play through an all tube head, and i dont have the ability until the weekend to turn it up loud enough to see if it happens on clean as well at louder volumes....
are you familiar with tubes at all and them crapping out?
thanks a ton either way
hey, well, first off did you swap cables? or just guitars.

a bad cable is always the first thing to check out.

and how long have you had the amp, and what type of amp.
swapped cables yes, no change.

I have had the amp for 2 months, but used, its prob been between us two owners combined for a year or so.

And it is a Peavey Valveking Head.
It's either action, or neck warp.

Do not adjust the truss rod if you do not know what you are doing.
swapped cables yes, no change.

I have had the amp for 2 months, but used, its prob been between us two owners combined for a year or so.

And it is a Peavey Valveking Head.
well Vks usually end up getting a speaker (unsure what cab you're using) and or tube change for tonal improvement anyway.
if you are certain this is a noise produced by the amp. (check that ur speaker cable is quality as well) then take this over to the ultimate tube thread, sticky at the top of the accessory section, and talk to Roc, im sure he'll be able to help you out a little more than i can.

if you feel it's more of a guitar, set up problem, then come on back and we can fine tune you a little more.
also, make sure ur intonation is good on both ur guitars,
in tune at the 12th fret, as well as open notes.