4pickup guitar?
my friend wants to do a build and we got to talking about it, I decided HE wants 4 pickups.
He decided he wants 2 neck models and 2 bridge models.
we agreed he wanted to wire it in a way that it could have all the possible combinations excluding coil taps.
Neck1
Neck2
Bridge1
Bridge2
n1, n2, b1, b2, n1 + n2, n1 + b1, n1 + b2, n2 +b1, n2 +b2, b1+b2
thats 10 different combinations, the only we would know how to do this is with a chicken head thing.
dont know what they're called but the 137custom has it
EDIT:
that thing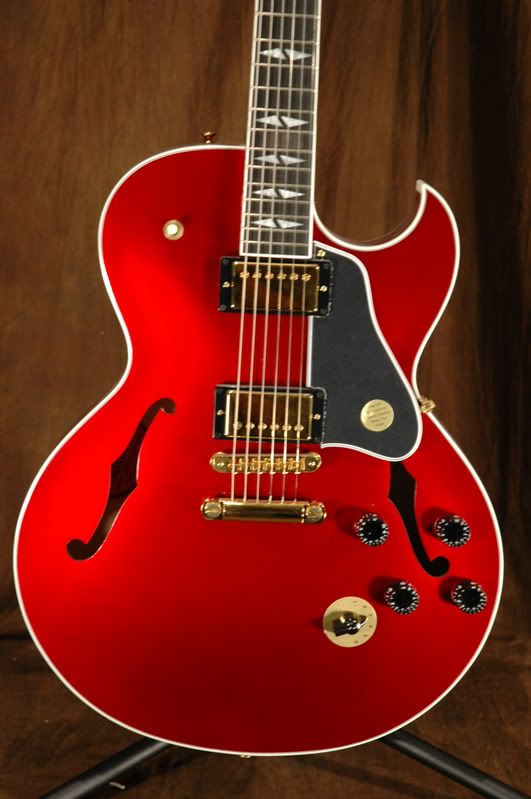 anyone have any experience with this?
is this a good idea? he's pretty good with a soldering iron, but neither of us knows how to go about wiring it
that seems pretty dumb too me. i cant see anyone using/wantign to use all of that. but i would go with a 3 way switch for each pickup. on/off/single coil, assuming you are doing 4 humbuckers. if you are doing 4 single coils, still use 3 way swithes. on series/off/on parellel.
what i would do is hook them up to their own on/off switches so you could have say all but one on or something like that. its probably a lot simpler and allows for more combinations.

EDIT: btw, that chicken head thing you mentioned is called a rotary switch. it would work but i think there are simpler ways to do it.
Last edited by a4lrocker at Mar 24, 2008,
Join date: Mar 2006
418

IQ
Nice idea, it's probably been done (I've seen one which was crammed with singlecoils from the bridge up to the fretboard) but it'll be nice to do.
Also I'd personally have on/off switches for each pickup, a master volume and a master tone, though fitting them all it another thing

Sounds very Spinal Tap.


And individual On/Off switches are definitely the way to go with this one. Otherwise it gets very complex, and you'll almost certainly end up with lots of phase problems to deal with.

Join date: May 2006
60

IQ
there is no way you can fit four humbuckers... just so you know

unless you do some weird ass scale, and dont have too many frets
Four seems really extreme. Have you tried a 3-pickup les paul or SG? I can't imagine you'd need more, not to mention they probably won't fit. I suppose that's up to you though.
What guitar is it in?
I'd go with a master volume, master tone or maybe bridge+middle tone, and a three-position switch for each pickup (both coils, one coil, off).
You could also do push/pull on four different pots- push for volume control, pull for tone control. Then you could have volume and tone for each pickup, and wire them in parallel so you can just turn down the volume for pickups you're not using.
there is no way you can fit four humbuckers... just so you know

unless you do some weird ass scale, and dont have too many frets
hey, that guitar is pretty neat to me. definitely cool.
fosho: what style of guitar are you working on?
if it's a strat, you could do mini humbuckers in the neck and middle, as well as a wide four blade humbucker (two single coil humbuckers the size of a regular humbucker)
and you'd be working with a total of four humbuckers...
if it's a two humbucker equipped guitar (like the one pictured) and you don't want to carve up the top, you could put in two four blade humbuckers.
but, I've never heard any of those styles of pickups and really said to myself "That's a useful tone for me" so IMO, I wouldn't, but I thought I'd throw some ideas out there.
you could replace the pickup selector switch with a rotary provided you have the space big enough for it (say if it's a three way toggle) and then use push/pull pots to keep your guitar capable of going back to stock without having routed anything to possibly damage the value.
if the value of the instrument is not in question, go for whatever compels you.
four blade (four pickups) 27.5k Ohms, kent armstrong
(Invalid img)
strat single coil sized twin blade humbuckers (if in a strat, six pickups to work with when splitting), GFS
rotary switches, Stewmac
Join date: Jan 2005
345

IQ
Too many pickups - too much string pull, messing with intonation.
well yeah. there's always upsides and downsides to more or less pickups. unless their all weak magnetically or moved far from the strings, but there's another upside and downside situation right there.
sorry for the tardy reply, my composition class is killing me.
he decided it was too stupid for him, so im gonna do it

i like the on/off switch idea, ill defintely do that instead.
you are talking about SPDT switches, right?
on for each pup?
what id like is a volume control for each one and tone for the neck ones
so i guess ill read up on the ultimate killswitch thread for this.
i think it would be
Pup -> Vol/tone -> Switch
right?
its a strat style body.
one set of humbuckers is regular sized nd the other set is alot thinner, bout 2/3 the size, maybe even a little less.