What would be your ideal Death Metal lineup ?
Everything is in the title

Mine would be :
Guitar 1 : Karl Sanders (Nile)
Guitar 2 : Muhammad Suçmez (Necrophagist)
Drums : Flo Mounier (Cryptopsy)
Bass : Steve DiGiorgio (ex-Death)
Vocals : Jeff Walker (Carcass)
Keyboard : NO KEYBOARDS for trve evil death metal



Join date: Apr 2007
70

IQ
Guitar 1: Nergal
Guitar 2: Karl Sanders
Bass: Alex Webster
Drums: Inferno
Vocals: Nergal

Join date: Nov 2007
10

IQ
vocals:chuck schuldiner
guitar:chuck schuldiner
bass:alex webster
drums:george kollias

Join date: Mar 2008
10

IQ
king diamond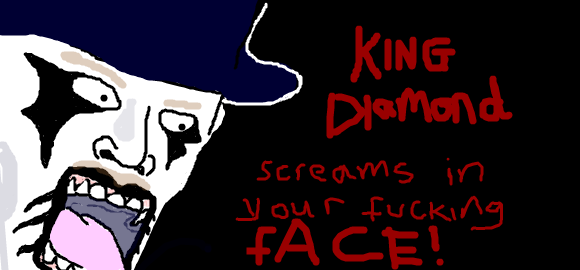 Join date: Feb 2007
81

IQ
all the people from animosity

Join date: Dec 2007
151

IQ
Lord Marco Pitruzella - Brain Drill, ex. Vital Remains and Vornagar (Drums)
Glen Benton - Deicide and Vital Remains (Vocals)
Stefan Fimmers - Necrophagist ex. Grand Sermon and Human Bloodfeast (Bass)
Dallas Toler Wade - Nile (Guitar and Backing Vocals)
Alexi Laiho - Children of Bodom (Lead Guitar)

Join date: Jan 2008
188

IQ
Vocals: Chuck Schuldiner
Lead: Muhammed Suicmez
Rhythm: Barry Thomson
Bass: Alex Webster
Drums: Charlie Zeleny
king diamond
Rofl.

1st guitar karl sanders (Nile)
2nd guitar muhammed suicmez (necrophagist)
drums flo mounier (cryptopsy)
bass alex webster (cannibal corpse)
vocals joe duplantier (gojira) ore troy sanders (mastodon)
I loled at the King Diamond


Join date: May 2007
30

IQ
Vocals/Guitars: Chuck Schuldiner
Vocals/Guitars: Bill Steer or Erik Rutan
Bass: Sean Beasley
Drums: Derek Roddy
Vocals: Nergal [Behemoth]
Guitar 1: Karl Sanders [Nile]
Guitar 2: Muhammad Sucimez [Necrophagist]
Bass: Alex Webster [Cannibal Corpse]
Drums: Kollias [Nile]

Join date: Jan 2008
188

IQ
it looks like webster holds the bass and schuldiner holds vocals for the most part.
Yeah, I'd say the same about Suiçmez/Sanders/Nergal for the gee-tar

Then the Nile drummer on drums

.
What The Evil Hat said except with Lord Worm on vocals...

Join date: Aug 2007
20

IQ
I typed all mine out, then I realized my band would be cryptopsy (blasphemy made flesh/none so vile era) except with johan hegg from amon amarth or peter from vader on vocals

I also considered the hoffman brothers on guitars, but eh.

Join date: Nov 2006
40

IQ
I have a love/hate relationship with Chuck's vocals. I sometimes find them a bit annoying, especialy on the later albums. They just remind me of a little girl for some reason.
No offence to the guy, his vocals just aren't my cup of tea sometimes.
Anyway:
Vox: Lord Worm
Guitar 1: Jonas Bryssling (Spawn of Possession)
Guitar 2: Jeff Loomis (I know Nevermore aren't death metal, but still... It's Jeff
fu
cking Loomis.)
Bass: Alex Webster
Drums: Flo Mounier
Guitar 1: Chuck Schuldiner
Guitar 2: Muhammad Suçmez
Bass: Cliff Burton
Drums: George kollias
Vocals: Evil Chuck