this a good amp?

Join date: Sep 2007
90

IQ
jesus that's a lot of wattage. it looks like a bass amp, so unless you play bass and play arenas ands stadiums that is TOO much.
I have had that amp for almost a year and a half and its nothing special, but it's still a solid amp. I'm almost positive that its a 300 watt combo and it weighs at least 80 pounds, yet it is still very loud and could easily drown out drums or guitar. That being said, my uncle set me up with it for 300, so that seems to be a good deal, but I wouldn't go too much higher than that.

EDIT: In case you were wondering, this is definitly a bass amp.
Not 800W at all. It's 300. I think the 8 is a typo as it only appears in the title of the auction.
I have owned three peavey amps.Two solid state, one tube. they are solid amps and sound good. made in U.S. i've had to quality issues. i broke one but that was my own fault. i was stupid and hooked things into wrong jacks. my bad, not peavey's. The only issue here is that eq...i mean...wtf. no low mid high. it's all labeled funny.
Last edited by Revelation at Mar 31, 2008,
Whats funny about the eq? It just gives you more tonal flexibility, and they are labled low and high, so, with an educated guess, you might find the middle frequencies are the "mids".
EDIT: heres a pic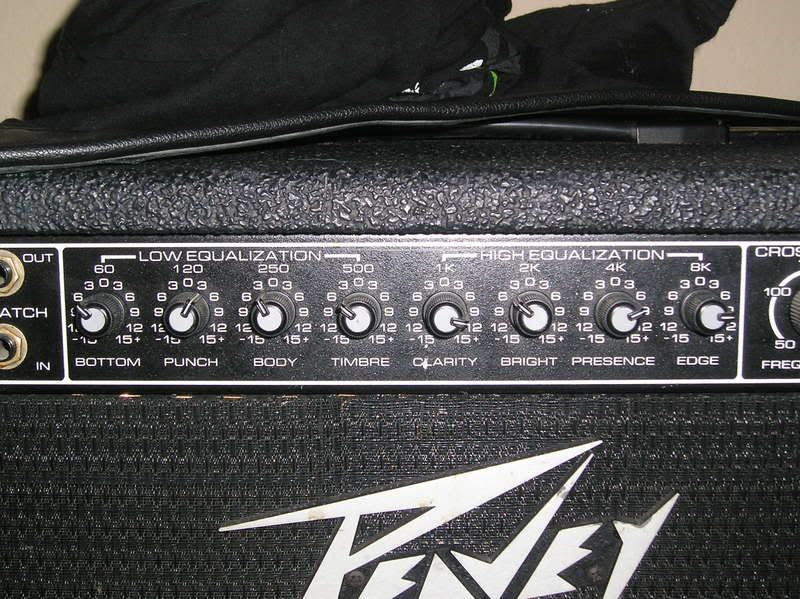 Last edited by Jeff123 at Mar 31, 2008,
they are not labeld low mid high. but now i see that it has the frequencies written above the knobs. didn't see that before so ya i'd say go for it. worst case you can sell it for same price. A peavey for 350 is a good deal.

and since you state that you might find the mid frequencies are the "mids" i'd like you to show me where it says mids. don't just point me to the middle knob. It was my bad overall for missing the frequencies on there.

Nevermind man. i misread your post. i'm such a jack***

I vote buy it!
Last edited by Revelation at Mar 31, 2008,

Join date: Dec 2005
112

IQ
I have an old Peavey as well. I have the same EQ problem. Having Mid and Treble at 10 makes no differnce than having it at 1
Hey, that's kinda like how I did the frequency rename thing! But I disagree with how they renamed them.

Anyway, yeah, that can be a bit goofy - however, the frequency is above the words and that's all that matters.... even if I don't really like the frequencies they're set at.
ya i hear ya. if you got that many knobs why start at 60? i'd set it to 30-40 for the bottom.

Join date: Feb 2007
70

IQ
My school has the exact same amp. It's pretty decent. It's loud and has some tonal variation. It's basically like most amps around that price range, only it can get loud as hell.

I'd say, get it if you can.

- ATB
The speaker has 800w handling, that's why it says 800w. Peavey's stuff is always solid, but their new amps seem transparent. Not sure about the older stuff, though. A good amp, yes, but only you can play it and see if it's for you.

Join date: Dec 2006
50

IQ
I have had a couple of peavey amps.
Both really solid and gave a really nice sound.
I would say thats a good buy.

Join date: Apr 2005
30

IQ
Peavey is good equipment. this amp is probably designed for keyboard, but should do fine as a bass amp. it has a 4ohm speaker, and produces 200watts at 4ohms.
you could add a second 4ohm cab to get the full 300watts out of 2ohms.
not a bad purchase.