need wiring help
okay, short back-story... we have to make an "invention" or improvement on a product for one of my classes so i decided to shorten an ipod connect cable to make it portable (if its already been made, so be it, the teacher won't know)
i took an existing wire and stripped it down to about this at both ends:
there are red, black, green, white, and silver wires inside the USB cable... i just now need to connect them back in some way, but that is the problem...
is there any way to easily connect them back together so that it is still functional? some sort of tape to put around them individually?
it doesn't have to be, it's just the concept, but a working model would surely be more impressive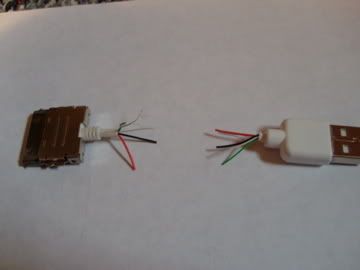 any help is appreciated
well, preferably something i don't have to purchase seeing it's due tomorrow and i can't get out tonight
twist em together and use tape (and this comes from an electrician xD)
what type of tape? electrical tape, duct tape? will it still be able to transfer information?
probably electric tape seeing how were dealing with electronics
expose the wire at the ends and solder them together, then put heat shrink over the exposed wire

EDIT: twisting the wires and wrapping them in electrical tape will work fine but since its a school project i think soldering might get you a higher grade.... looks more professional and all
Last edited by Nikk at Mar 31, 2008,

Join date: Jan 2008
10

IQ
soldering would be my first choice, the others a fallback