I got this strat today and I dont know which one it is.
I cant find what model it is online.

It's got a rounded end and it says "stratocaster" all curvy on with the fender and squier logo. The serial number is CY04083002 I goggled and found nothing well kinda close but those guitar were priced in the upper hundreds and I paid 120 for this guitar.

please and thank you on any info you have on this guitar. if you can find me a web page with detailed specs and price that would be cool.
Ah. Squires are starter guitars.
Ah. Squires are starter guitars.
I know but it doesn't look exactly like the quiers of today. its got this cool looking finish and the pick guard is all pearl-like.
if it says on the headstock .. squire strat.. then its a squire strat
>.< I know but can i find a price listing for it?

Join date: Nov 2007
20

IQ
You bought a guitar not knowing what brand it was....................interseting. Sounds like a SQUIRE strat.
i dont think squire strats run any higher then 150... if there any higher you got ripped off
They make Squire Strats with the cool looking pick guards.
anyone can put a cool looking pick guard on a squire strat.. doesnt have to come from the factory
At least you bought a higher up one than the Affinities. Congratulations, you've advoided the first pitfall of blind buying

NO!!! the body also has this weird wooden design... its fading into brown with pattern paintbursh-like stripes IDK how to explain it... its got two tone knobs and uhh IDK it doesn't look like a normal squier.
look up squire strats on guitar center.com
Pics dude. They'll help a ton.
the pictures.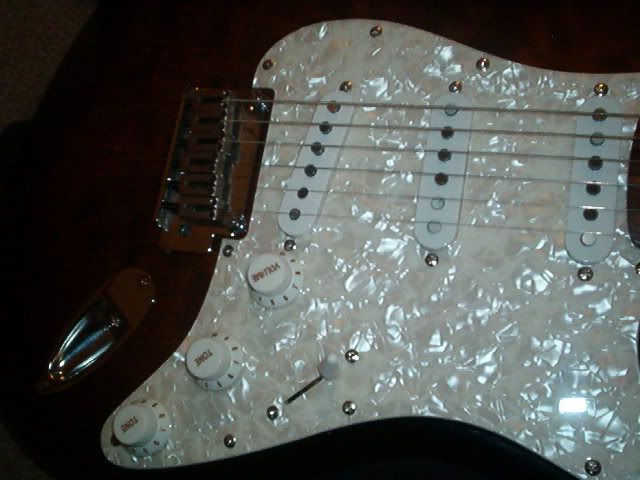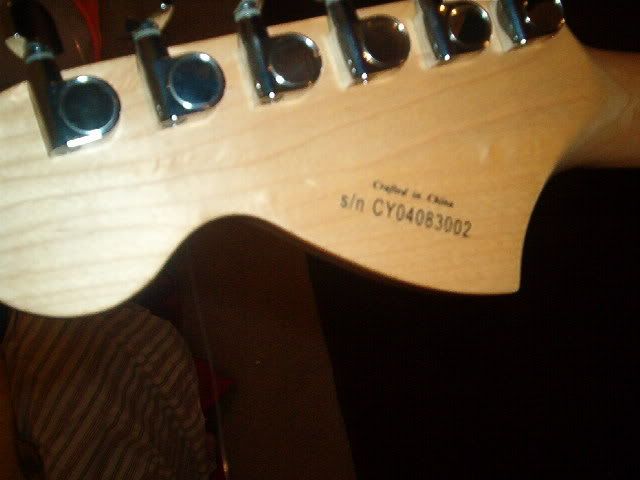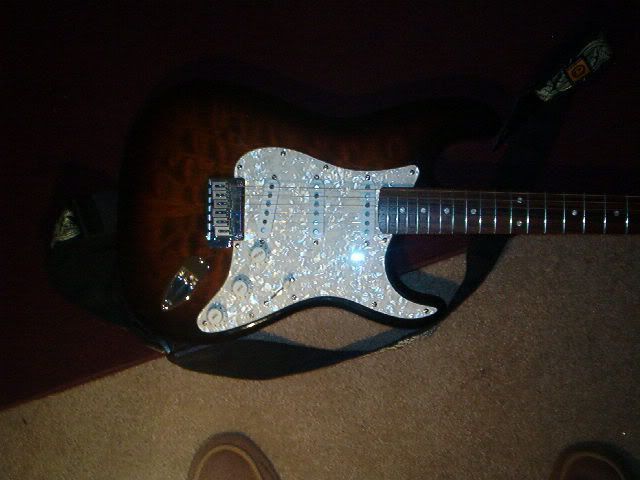 Join date: Mar 2008
70

IQ
For a Squier thats pretty sex lookin'
Looks pretty cool, but... "crafted in china"?
For a Squier thats pretty sex lookin'
now do you see what im making such a huge deal about? there is no way thats just regular. When i plug it in its got this really kidn aoldschool crunch sound to it. A sound I've ever really experienced when playing guitar before.

Join date: Dec 2003
140

IQ
Last edited by El Cumanés at Apr 1, 2008,
The squiers doesn't have 22 frets as far as i know. Maybe a Mexican strat.
BTW, looks awesome for just 120$.
So I made a wise decision purchasing this?

Join date: Nov 2006
140

IQ
I believe that's a quilted maple top. Someone correct me if I'm wrong (and I know you all will).


Pics of the front of the headstock would probably be helpful as well.
i think thats an older Crafted in China squire, they are pretty nice guitars. some say realy realy nice, good buy man. i dont imaigine its worth alot of money. but you got it for a good price and you will probbaly keep it forever.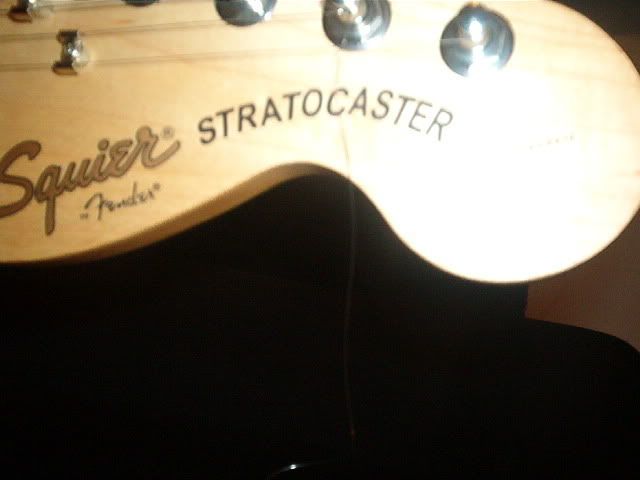 here is the front headstock. Yes I like it very much. Its got a beautiful sound. On distortion its got that "in your face" punk sound and I love it.

Join date: Nov 2006
140

IQ
Last edited by Habit Zero at Apr 1, 2008,

Join date: Oct 2006
10

IQ
Your guitar is A Squier Deluxe Stratocaster QMT, you can google it, i'm pretty sure I'm right.
Join date: Dec 2005
72

IQ
My dad has the same guitar, it's pretty nice for a Squier.
Wow... This guitar is really something. Its discontinued and now it sells for about 250. What a deal. I think this is one of those guitars I want to hang on a wall.

Join date: Jul 2007
110

IQ
I was about to say if it is an old Squire then it might be worth more, but if it is "crafted" in China then it is pretty recent and worth what you paid.
It's not that one... it doesn't have a quilted top.