Custom ThinLine AE - Prototype I
Hi!
For a quick background check, I'm Josh Katherman and new to the forums. I have aspirations of making my own guitar building business, whether on the side or potentially full time. I've played guitar for 14 years (i'm 23) and have been modifying/repairing/redoing guitars here and there throughout my entire guitar playing era.
This is the my first attempt at a full build, this will be the key showcase piece for my website and (if it turns out good enough) my #001 guitar for my company!
I started the project a little while ago and I'll post pics of some of the progress and ideas that I have for it. I hope for some suggestions, ideas, and opinions on where it should go and the final outcome that we'll see at the end of this thread!
Unfortunately most (pretty much all ha..) of the pics were taken with my cellphone but it's 2mp so they turned out good enough to get the general direction of ideas by =] This won't be a full step by step guide since I JUST decided to post my progress and I dont have pics of everything.
This guitar is going to be a Thinline Custom Archtop. Now I say this loosely because the construction process and size is vastly different than a standard archtop guitar. This guitar will be made to play anything from jazz/country/pop/rock/and hopefully metal if construction implementations are as solid as they're planned to be.
LesPaul-ish body style modified
25" Scale
Ebony fretboard
24 Jumbo Stainless Steel Frets
5 piece laminated neck w/ Wenge supports
Bent 1 7/8" sides, Quilted top and back
Ebony Accents (pickup covers, tuners, truss cover)
F-Holes
Duncan SH-4's
No Inlays (as of now)
L.R.Baggs TOM w/ piezo
All Hardware Gold/Ebony
Finish:haven't decided!
Here's some pics of various progress points
I dont have pics of making the jigs for the body mold but here's me bending the sides to proper angle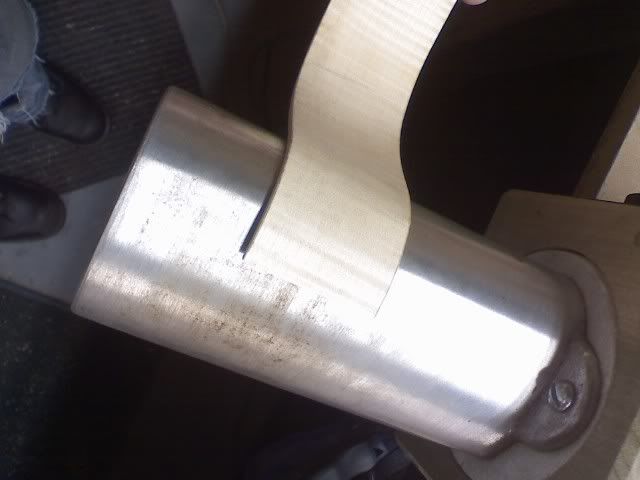 Here's the body shape with sides bent ( i used way more clamps when freshly bent but this is after it's already dried ) It's a bad angle but you get the idea of the shape, essentially lespaul-ish with top curved in instead of straight, this will allow for a much smoother heel and ease of playability.
This is a pic of the BACK quilted maple I received, they sent me the wrong piece for the front but I felt like working on it so I started the back first

This gives you a better idea of the body shape, I didn't want to do anything too off the wall, stick with tradition to some extent while not being an exact copy. This is after I cut out the back, normally I would use a bandsaw but alas, i'm young and broke so I used my scroll saw for the job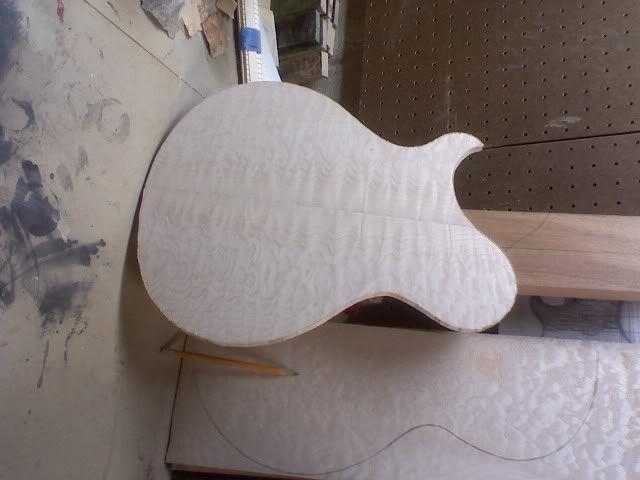 Checking fit of top to sides, absolutely perfect!
Pickups Rings routed and sanded. This will be sliced in half/countoured for two graduated rings