I think I made this Bazz Fuss wrong...
...but who cares, it works, and it sounds unique!
http://noouch.de/audio/noouch_bazzfuss1.mp3
- Basics
http://noouch.de/audio/noouch_bazzfuss2.mp3
- Holy crap! Diodes removed and 0.1uF electrolyte cap between 9V + and -
Utilizing both the diodes and the cap just gives me a basic low pass, good for mellowing the fuzz out a bit. I was pleasantly surprised, this seems to be the first effect I have that sounds completely different depending on how I set the tone knob on my guitar.
I've just got it breadboarded out right now, but I'll probably give the components a proper home once I have some more free time on my hands.
I was thinking of a selector for which diodes you want to have in series (maybe just a connection matrix), and whether or not to use the low pass/go nuts cap.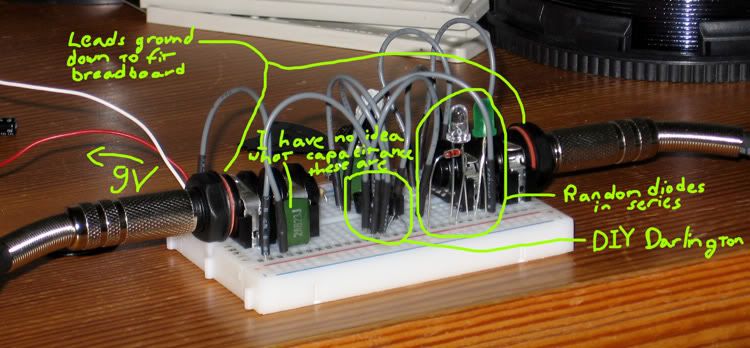 Join date: Dec 2005
112

IQ
What the HELL is this contraption you got going on?! O_o
What the HELL is this contraption you got going on?! O_o
It's (the innards of a future) distortion pedal. Just listen to the sound samples to get a basic idea of what it sounds like...
It's really not much. Just three capacitors, some diodes, a couple of resistors for voltage control and component protection and a whole lot of jump wire.

Join date: Mar 2008
10

IQ
What the HELL is this contraption you got going on?! O_o
That's a breaboard, or prototype board. It's awesome for quick prototypes and experimentation. No soldering, you just insert the components and wires in the small holes, which are connected together in series of 5 holes if I recall correctly.
what schematic are you working off of? Link?

Join date: Dec 2004
61

IQ
sounds way muddy
Well considering this is "baby's first fuzz", I'm quite happy with it. I wouldn't use it for rhythm, just for the occasional solo...
http://www.home-wrecker.com/bazz.html
I worked off the v3 schematic, although I pretty much just used components I already had, meaning the values for the components vary slightly.