Pedals and more with pics.

Join date: Apr 2007
10

IQ
PRICES INCLUDE SHIPPING AND PAYPAL. I WILL CONSIDER A USPS MONEY ORDER (ONLY!!!!!!!!!!!!!!! No Moneygrams or gas station MOs - sorry) IF YOU ASK NICELY.

PRICES ARE NOT SET IN STONE.
Trade interests:
BOSS RC-2 :love: or other looper (NOT AN RC-20/XL or DL-4)
Ibanez DE7
Boss PH-2
Ibanez PH7
Tremolo
Synthy pedals
Ibanez Lo-Fi
TRY ME WITH ANYTHING, but the listed pedals are ones Im craving atm.
ALL PEDALS WILL BE SHIPPED WITH A GEORGE L CABLE. Between 6" and 12" and has straight plugs on each end.
Consider that before thinking my prices are a few bucks off.
Yes, I will lower the price if you dont want the cable. But I think that the prices listed, with a GL cable, are all fair deals for you.
DOD 270 A/B box
. In/Out only. No power. :thu: - $27
Peavey DEP-16
Stereo Effects Processor. Has delays, chorus, flange. And Ive gotten some phasey sounds out of it too. Delays are INCREDIBLE. Digital clarity, with a nice warm, beautifully degrading sound. DD-3 + warmth is my take. But this thing does some WACKY delays. There are pitch-shifting delays, delays with modulation, delays that slow and speed up with time, etc. Seriously an amazing pedal, and stereo outs are another bonus.
I really dont know what to ask for this, as GOOGLE turns up very limited results when searching. Im taking offers (trade and/or cash). BOSS HM-2
- Youve heard the buzz. Awesome distortion/OD sounds. Not very noisy. In great shape. - $47
Marshall Jackhammer
- OD side is :love:. Distrtion side is ok. Dial to switch between the 2. GREAT Marshall sounds, from lighter to heavy Marshall distortions. It made me feel very OK with selling my Brownie (BSIAB) pedal. - $47
http://reviews.harmony-central.com/reviews/Effects/product/Marshall/JH-1+Jackhammer/10/1
BOSS PSA-120T 9v power adapter
- 200mA max draw - $13
Dunlop 9v power adapter
- Works as good as new. 200mA max draw - $13
BOSS 8-spot daisy chain
- $12 - SOLD FOR $10!
Creme Les Paul pickguard
- SOLD!
Qwik Tune tuner
- SOLD!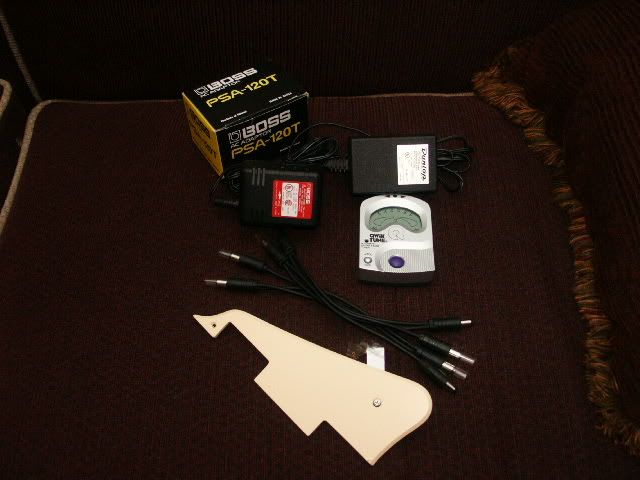 Last edited by SomniferousEyes at Apr 12, 2008,