What kind of wood is this body?
I sanded down my old strat copy, and found this:
Is this any decent kind of wood or ****ty ply type crap?

Join date: Apr 2006
10

IQ
Judging by the second picture it is some form of plywood/block board

You can see a strong join line towards the left of the pic where a knot looking grainy thing just disapears into a straight line, may be its just a 3pc or something...
Last edited by Absent Mind at Apr 20, 2008,
Arrghhh, thats what I was afraid of, thanks anyway. Guess this will be a "for show" project.

Join date: Apr 2007
20

IQ
i dont think its plywood,close up pics would help
Going by the top, it looks like Ash. Post close-up of the neck pocket.


Join date: Jan 2007
60

IQ
It's definitly not ply, not sure what it is but remember good pickups/hardware + good amp + good EQing and no one will be able to tell the difference in a blind test. If they say they can hear a big difference they're either full of themselves or Eric Johnson.


Join date: Oct 2006
221

IQ
yeah, its not ply wood, i think its probably ask, I'm not 100% sure though id need to see more pictures.
Few more pics. Sorry about the crappy quality, it's just a phone camera: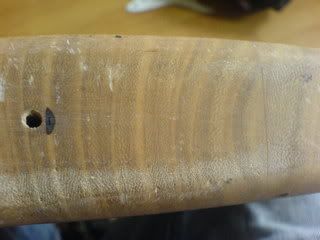 Join date: Oct 2007
450

IQ
it looks like agathis to me.