F/S Zakk Wylde Buzzsaw Les Paul w/ 81/85
I crashed my car into someone's garage. . . yea it really sucks so i get to sell my Buzzsaw Les Paul. Its quite new, not a scratch on her. Ya'll should know all the specs on what not. With ZW EMG's $650, with the factory EMG HZ's $525. Shipping extra, between 25-35 depending on where you live. Let me know if you're interested. A trade possible but there defantly has to be atleast 100-200 cash on top of the items. I prefer paypal as payment type but i'm flexable. Need anything else, specific pictures, or anything just let me know.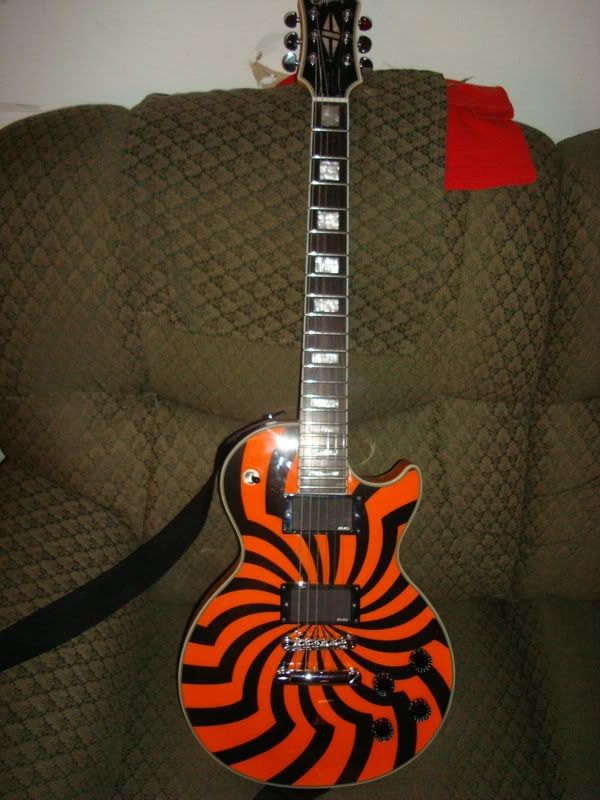 Last edited by Neo_Towel at Apr 27, 2008,
I thought you said 81/85... HZ's are not that..

Join date: Feb 2008
20

IQ
He said he will sell them with the 81/85s for 675, but he could also sell them with the factory hzs for 550.

read more closely.
yea, seriously. If you look closely in the picture you'll see that its the 81/85 set currently in the guitar. . .

Join date: Jan 2008
50

IQ
I'll trade you my goldtop for it with 81/85 in it.
MattMac273 - what do you have in mind? throw an offer at me. . .

Stings n stuff. . . Naw man
Im defantly interested in the Synyster Custom, and defenatly not interested in any pedals as i have a pod xt live. hmm. . .
Bump, anyone else interested?
some stuff in the sig up for partial +cash
i didnt really see anything in there that i'd be interested in. and like i told dude earlier, i have a pod xt live so pedals are useless to me. . .
Bump, New Lowered Prices!
can i get it with no pups would that lower the price any?
maybe a little, maybe 500 + shipping (i wont overcharge you there), and i a payment method other then paypal because theyll take like $30 from me and im a cheap bastard. . . seriously though, when things are tight every bit counts, you know. . . feel free to pm me for my myspace or msn or something and we can dicuss it.
well just send me your myspace address and well talk it out over that. cause im really interested and can make this worth your while
i left it as a comment on your profile. . .
Bump. . . Come on people. . .
tried to add you as demon cleaner but i forgot to msg you sayin it was me
Hmm...all I can offer is are modified psp and ds lite systems. not sure if you are into videogames at all..