Having trouble wiring a 3 way switch.
I tried a guide found on Seymour Duncan and followed the wiring on another guitar with the same setup but it's not working and I'm really confused. What I want to know is how to wire a 3 way blade selector that looks like this: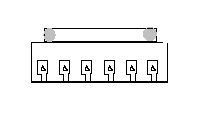 I just need to know what wire goes where on this thing and I should be alright from there. I never used a switch like this before.
lol i hear ya guy i jus put 2 active emgs in my guitar, i jus used trial and error, hooked it up to see what worked and what didn't
Yeah when I started I got just the bridge pickup working in the neck position (on the switch) then I mixed it up and got both pickups in the middle position but nowhere else and now I have no sound coming out at all.