stainless frets on Carvin?
This summer I planon ordering a custom Carvin DC-127. I wanna know if it is worth it to pay the extra 40 bucks to upgrade to the stainless steel fretwire rather than whatever comes stock. What are the upsides to stainless steel?

Also what do you think about getting a carvin, I am a tad worried as I cant play the thing before its all made and shipped to me, although im sure they make wicked guitars.
The stainless steel frets will never need any fretwork done on them again they don't wear because there so hard and make bending really smooth. The only downside I have found people say is they sound too bright for some people. I think theres a 10 day trial period if you dont like it.

Join date: Dec 2007
130

IQ
get the stainless steel frets and also i have never met a person who has been disappointed with a carvin. they are amazing guitars
yeah I know about the 10 day thing I'm just worried about waiting 7 weeks to play it then after all of that waiting sending it back haha.

Join date: Jul 2006
130

IQ
Spend the 40 bucks now for stainless so you don't have to spend hundreds in fretwork later.

Join date: May 2006
160

IQ
Whats the rest of the specs bro.

Love readin me about some Carvins.
I hacent really decided on all the specs, but I'm thinking tune-o-matic with strings-through, I wan't to get the 14 inch radius fretboard rather than the stock 12 inch, blue burst finish methinks. I don't really know about all the other stuff just yet. There are so many options and I only have so much money.

Join date: Dec 2006
40

IQ
Carvin you say?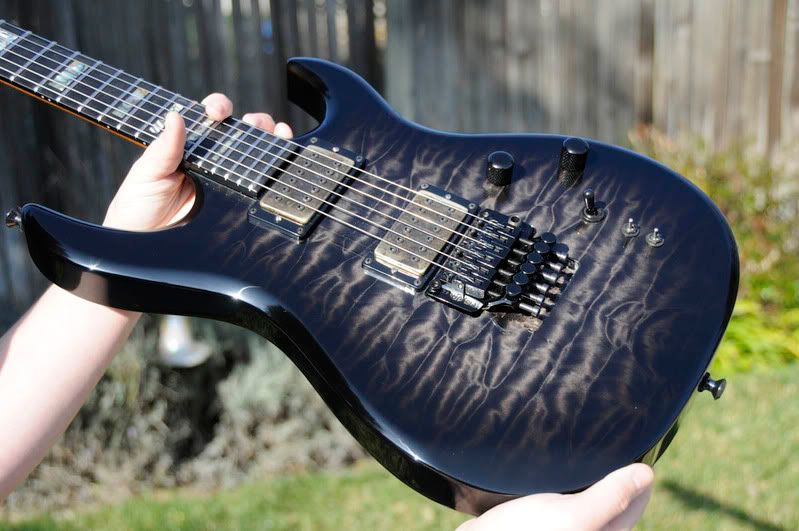 Carvins ****ing rule.
End of story.
And yes SS frets are worth it.
****ing gorgeous axe man.
Carvin you say?

Carvins ****ing rule.

End of story.

And yes SS frets are worth it.
whats with the different pickups?
one you have Bareknuckles and the other you have Carvins
im confused.

So I ordered my carvin last night

. Here are the specs:
DC127- NEW 1 $ 779.00 $ 779.00
TL Blueburst $ 25.00 $ 25.00
MAH Maple Neck/Mahogany Body $ 50.00 $ 50.00
$ 0.00 $ 0.00
-PH Headstock To Match Body Color (Standard) $ 0.00 $ 0.00
CTH Carved Top Headstock $ 20.00 $ 20.00
-EB Ebony Fingerboard (Standard) $ 0.00 $ 0.00
-DI Dot Inlays (Standard) $ 0.00 $ 0.00
STF Stainless Med-Jumbo Frets .048" H .103" W $ 40.00 $ 40.00
R14 14in Fretboard Radius $ 40.00 $ 40.00
-CH Chrome Hardware (Standard) $ 0.00 $ 0.00
-C22B C22B Bridge Pickup (Standard) $ 0.00 $ 0.00
-C22J C22J Neck Pickup (Standard) $ 0.00 $ 0.00
406 Cream/Black Coils w/ Black Bezels $ 5.00 $ 5.00
-46 Elixer 1046E Light Gauge .010 - .046 (Standard) $ 0.00 $ 0.00
HC11 Form-Fitted ABS Hardshell Case $ 54.00 $ 54.00
Tax: $ 0.00
Freight: $ 66.00
Coupon Discount: $ 0.00
Order Total: $ 1,079.00
wow, i wanna see pics when you get it!
lol.
that looks like it would be a fantastic guitar.

Join date: Feb 2007
120

IQ
if your stainless steel frets ever do become damage tho (very unlikely.. but hey... **** happens) You'll be hard pressed to find a techie that will sacrifice his/her tools to work on your frets, since most of the fret files meant to work on nickel.
Join date: Mar 2006
418

IQ
Just to add to the conversation my Carvin is superb, got one of the "instock" models though.
It's the Bolt T model (strat with a wilkinson trem) emerald green with blackburst edges, 14 inch radius neck (7 string standard, still plays "Faster" than most necks I've played).
I loves Carvins

Nice mam, I checked a few of the instock models but none really caught my eye. For the price that is. After I get it I guess it will make us Carvin+S470 buddies.