single pickup jackson kelly?
hey guys, i just traded with a guy on the harmony central forums and im getting a single humbucker jackson kelly. but i cant find a single pickup kelly anywhere online. can anyone tell me what model it is? it has dot inlays also

Join date: Oct 2006
10

IQ
its probs the Marty Friedman Signature model from the 90's.
Yep, a KE1. Cool guitars, and they have a cult following. What's the serial on it?
i dont know the serial yet. but im pretty sure its a bolt on and those ke1s are set neck. but maybe im wrong
Nice find, you don't see many Ke1's about....

I thought they were through neck with MOP sharkfin inlays???
i dont think its a ke1. its a bolt on neck with dot inlays
Does it have FR, fixed bridge, TOM or string through?

That can tell a lot about it. KE1 had FRs or Fixed Kahlers
Odd. Not a Kelly I can think of meets those specs. Can't wait to see pictures of it. Might be a refinish that had a pup cavity filled.
from what the dude tells me the paint was just sanded off and it was only routed for one humbucker. theres really no kellys with these specs?

single humbucker
bolt on neck
dot inlays
Floyd rose bridge

EDIT: the guy says its a performer series kelly, but from what ive seen on the net these are all 2 humbucker guitars
interesting post some pics up i wanna see it
and the ke1 kelly is the best, i have a ke3 its no ke1 but oh well
ill post pics when i get it. which should be around next week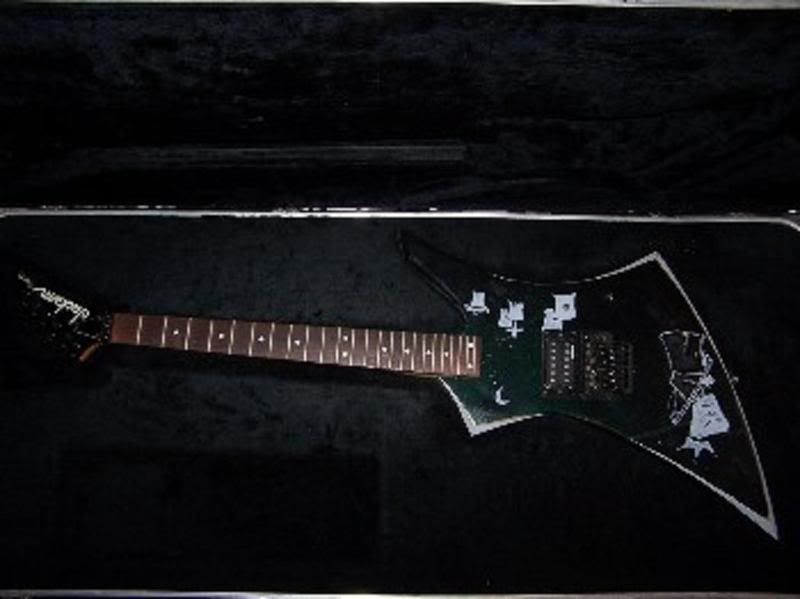 picture! he uglied up the paintjob pretty bad, but its getting refinished anyway(maybe a swirl finish?)
Picture aint clear but from the headstock it looks like a Performer...
im p0retty sure it is a performer but i cant find any online with 1 pickup
My performer has 2 pups and 1 vol knob.
Maybe he swapped the neck?
Last edited by 68_SG at May 2, 2008,