Mini DV tape ---> Computer?
Why hello there fellas,Can anybody help me out in trying to find out the best way to transfer video from my mini dv camcorder to my computer, so i can edit it in a couple software programs i got.
Join date: May 2006
210

IQ
Firewire
All mini DV cameras should have a 1394/iLink/firewire port on them that looks like this: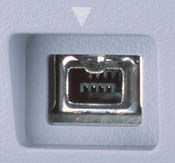 Sony calls it an "iLink" but its all the same...
just get yourself a firewire cable
http://www.newegg.com/Product/Product.aspx?Item=N82E16815124003and
if your desktop doesnt have a slot, get this:
If you are using a program like Adobe Premiere you should capture directly into that.
Windows movie maker should work ok as well though...
You should be able to control the camera from the computer which is nice
If you have any other questions on video gear or software feel free to send me a message. I'm going into this field and know quite a bit about it all already.
cool thanks, JVC (my camera manufact) suggests i buy their $30 cable, but could i just get another (cheaper) one?
thats what i thought, thanks

Join date: Sep 2006
10

IQ
So I guess your computer has a firewire port also? Just throwin that in there.