FS: Ibanez Artcore AFS75TD
FS: Ibanez Artcore AFS75TD Semi-acoustic. Excellent condition. Not a scratch on it. Paid $370 for it and another $80 for the case in 2006. That's $450 total + tax for the math-impaired.
Asking $375 shipped including paypal fees. If you're local to me and we can meet, then $350 cash. I'll consider trades for whatever.
Guitar is fun, but I rarely play this one since getting my Jackson and Taylor. This guitar was stored in the case. Non smoking household, no humidity problems.
Comes with the case. The regular slinky strings on it are a week old. Very low action on this guitar. Now that I've played better guitars, I think I want a custom ES-335 or something similar.
Specs:
Ibanez AFS75TD Specifications:
* Artcore Set-In neck
* Mahogany Neck Material
* Maple top/ sides/back Body
* 22/Large frets
* Bound Rosewood Finger Board
* ART2 w/VBF70 Vintage Vibrato bridge
* ACH1 (H) Neck PU
* ACH2 (H) Bridge PU
* Pearl Block Inlay
* CH : Hardware Color
* Mahogany Neck Material
* Mahogany provides rich warm lows and sweet sustain.
My Ebay feedback can be seen here:
http://tinyurl.com/5yxytc
Head-fi feedback can be seen here:
http://www.head-fi.org/forums/f12/gad-237334/
Lots o' pics here:
http://www.gad.net/GAD/Guitar/Ibanez-Artcore/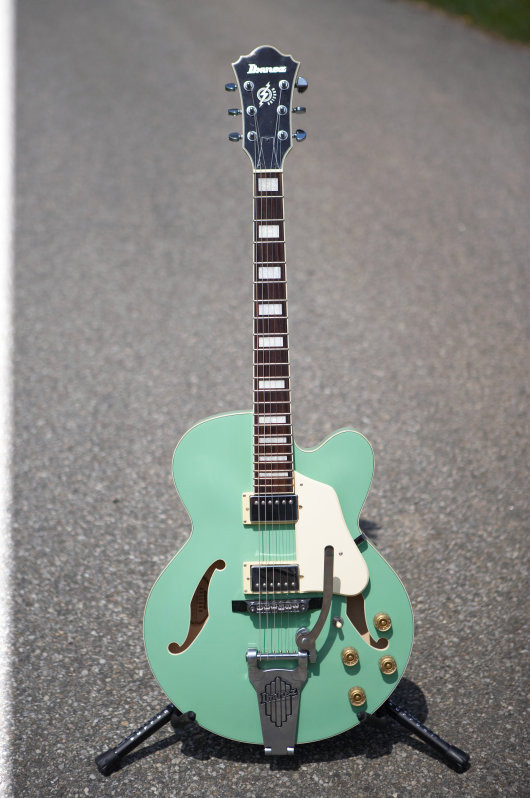 GAD