Kustom 150 questions...
Does anybody know anything about the Kustom 150?
I noticed we have one @ church last night, and it looks really vintage, but im not sure of anything about it.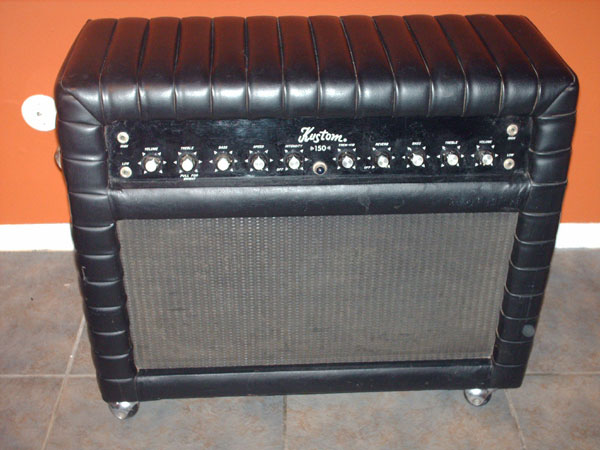 basically, can anybody give me any info on this amp?
how much its worth?
how many watts it can put out?
because i know nothing about it, i just noticed this little amp @ church last night that had a real vintage look to it.

Join date: Feb 2007
120

IQ
well it seems to be a earl to mid 70's solid state.

does it have trem and reverb?

given the age and what it is, the street price on it would probably be in the $200 range.
so about $200? any idea how old it is?

Join date: Jan 2007
10

IQ
I noticed we have one @ church last night

how much its worth?
Do you plan on stealing it?

Join date: May 2008
40

IQ
looks like a pretty comfy seat...
no, im trying to find out for my youth pastor, because the guy that went to the church before him, gave it to him, and he knew nothing about it, other than its a pretty badass little amp.
Looks like a killer amp.
It probably doesn't sound that great, but it's definitely a sexy piece of furniture.
it actually sounds quite good.... although im no expert on how guitar amps sound.
nobody knows anything? laaammee-o
Google it yourself, and you'll see some results.

Join date: Feb 2007
120

IQ
oh yea, it might not be worth much but it'll probably still sound great.

my friend had a Sunn alpha 212.. a cheap solid state form the erly 70's as well. but DAMN it was the nicest sounding amp i've heard yet.

it even sounded good when it was cranked surprisingly enough. they just made stuff better back in the day..
i have googled it, and hardly anything comes up.

cool avatar btw darkarbiter, that thing is beasstttly.