fret buzz on new guitar. $*!T ! hlp
i recently bought a schecter c-1 hellraiser hardtail, and im getting really bad fretbuzz, i also wanna put on heavy gauge strings and i dont know what i have to do there, except change the strings. thanks

Join date: Feb 2005
50

IQ
well just raise the action on your guitar to take care of string buzz...not familiar with the guitar so i dont know what kinda bridge u have..so do some research to find out how to raise the action if u dont know how...

also about the heavy gauge strings....u will have to change the nut to accomodate for the thicker strings
what nut? and its a neck thru if that helps.

Join date: Feb 2005
50

IQ
the nut is the thing by the head of your guitar that your strings run through...no the neck thru doesnt help...lol
ok, so just making sure, i have to change that thing that the strings run through at hte top of the neck, and change the action? thanks
If you have the money go get it set up by a trained professional. I would hate for you to accidentaly mess up your guitar.
get a little allen wrench and lower the two pegs on the front face of each saddle that you would like to raise.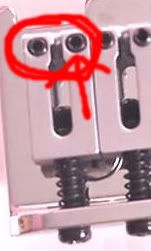 in addition, dont touch the nut at the headstock, and when changing the strings, you unwind one, clip off the curled end and run it backwards towards the bridge out the back of the guitar.

Join date: Mar 2008
50

IQ
dude why wouldnt you notice the fret buzz before you bought it? did you try it out? the shop should have set it up for you to work perfectlly. a brand new guitar should work like a dream