Help me finish my rig plan!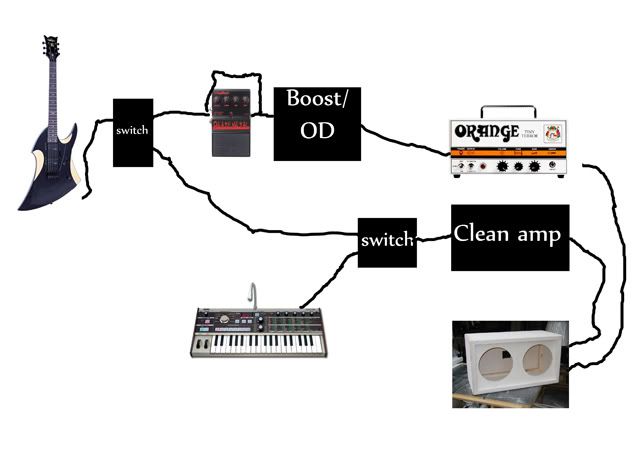 At the moment I have all the items which are shown by pictures. I'm about to start work on the cab (pic is not mine).
Can anyone recommend products for the roles which are not filled in on the diagram?
I need:
Switches
Booster pedal
Clean amp head (thinking of getting a cheapish bass head)
Thanks.

Join date: Feb 2006
224

IQ
How are you going around the Death Metal?

Join date: Dec 2004
10

IQ
scrap the digitech and get a OD imo. as far as switches go morley A/B seems to be a modern standard, but if you want to spend some money take a look at the radial tonebone switchers.
http://www.tonebone.com/tb-headbone-ts.htm
maybe use something like this to switch between the orange and a roland jazz chourus?
Last edited by shredhead22 at May 14, 2008,
what guitar is that its awesome
Being you have a pretty extreme guitar whats the brand name by the way.. And you have death metal pedal i take your going for some pretty heavy sounding stuff. So my question is why the Orange? I would skip the pedal and that amp and get a more metal worthy amp and then get an od to tighten things up. And for the cleans just use the metal amps cleans.

Join date: May 2006
60

IQ
don't you DARE use that crappy distortion pedal on a tiny terror, i forbid it.

if you've ever played one then you would understand.

and why are you taking about getting a cheap bass head for a guitar? that makes no sense...
if your going for a heavy metal guitar go Krank or Mesa/boogie those suckers are more powerful in my opinion (more expensive as well but still)
Join date: May 2008
30

IQ
A good clean amp might be an old silverface Bassman 100. Both the 50 and the 100 have lots of clean headroom, but the 100 will give you even more.
Im planning on keeping the death metal for laughs, instant feedback and as a temporary fuzz pedal, but I need to mod it for true bypass. Think of it as an effect rather than a distortion.

And the reason I want a bass head is that I was playing my guitar through my brother's bass practice amp and it sounded very nice. I would want something like a JC but they are rather expensive.
For a clean boost, check out the MXR Mini-Amp. Its not an OD, just a signal booster. I think it gives you an extra 20 dB of boost. If you want an od for metal, i would ditch the Digitech and get a Zakk Wylde OD, or at least try one. Depending on what your Oranges controls are, maybe get a good EQ pedal, just for some variety.

Join date: Nov 2005
90

IQ
Ibanez tubescreamer.
I was thinking of either a tubescreamer/bad monkey or a Proco rat 2, still not sure on what switch to get.
Would it be ok to play the microkorg through the input of the clean amp? or would it have to go through the fx return?
What guitar is that?
Vintage MetalAxxe Warp.
Its not very good, needs setting up.

Yea specs arent to great on it. But it does look smooth, gives me some ideas if i ever get an axe built.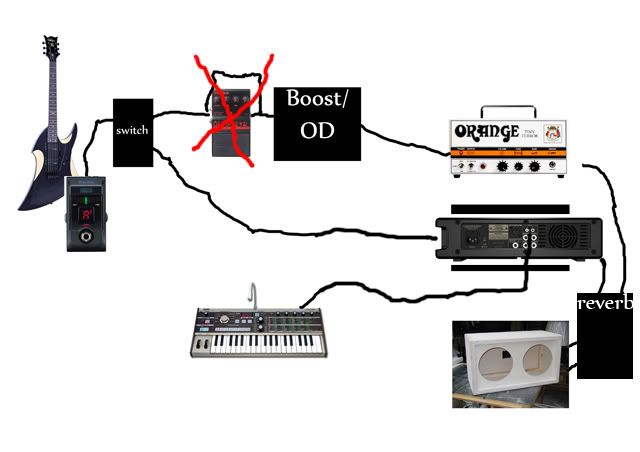 Is it possible to run a reverb pedal between the amp and the cab, or will it explode?
nah you cant put it there, it has to be before the power amp which is hard because your going to be running two
wouldnt run two amps in to the same cab that'll cause all sorts of nasty loading problems...
unless using a speaker each..

Theres a pedal/switch/dummy load thing you can get i think