pedalboard questions
im gonna build pedal board but atm i only have 2 pedals (a third one is on its way soon) i have a zoom G2 and a morley wah and a behringer ultra metal is on its way (free with magazine subscription) but i can onli think of a fewpedals i would eve need

my wah
my multi effects which acts as a tuner also which i use for phaser
ultra metal (yeah its **** but im gnna use it)

and then i want to get this summer

the vox satchurator pedal
a fuzz pedal
maybe a reverb and maybe a phaser pedal
mayb the digitech screamin blues

so are there any other effects that i would need?

cos my multi effects is good for anything that isnt distortion so thats why i will have the ultra metal, the satch pedal, a fuzz pedal and an overdrive pedal, so i can cater for all styles of distortion
later on you might want to replace the multi effect slowly. by buying stompboxes with effects you use a lot. it's especially easier when gigging

Join date: Apr 2005
260

IQ
dude, believe me, all effects from Behringer aren't worth it. They sound ****ty and they're gonna break after the first gig. been there, done that. even if it's for free with the subscription, I wouldn't count on it in a live or recording situation.
save up and get the right pedal the first time, otherwise you're going to regret it and waste money.
I can definately recommend all Pedals from Marshall, they are awesome and last forever and are pretty cheap.


and btw, this is in the wrong forum. this belongs in the guitar gear and accessories forum.
actually my reel question was about how big i shoul make my board but i neglected to mention that. should i just leave enough room for say 5 or 6 BOSS sized pedals?
what do u rekon?

its gonna be like 2 shelves so i can have the effects i dont turn off along the top row s i dnt need to touch them, then the ones that need adusting like the wah on the bottom then at the back under th top shelf i will keep an adapter for the power supplies, all of it will be painted then i will attatch rubber matting so the pedals dont slip around
cmon guys gimme some help i wanted to start the build this aftrnoon but its lookin like im gonna have to put it on hold till the weekend
Well for one don't bump a thread twice in an hour.

But on to the subject:
1st thing to think about is what is the biggest pedal you'll be having on the board. Obviously it will need to be that deep to fit that on, then just take a guess at how many more pedals you'll be buying and do it that way. Leave enough space between the pedals for Jacks, and your well away.
I think in time you will phase out your multi effects pedal, so i'd compromise for that.

I've got the biggest board that the company i had it from does, its a meter wide by half a meter deep, and its getting pretty full. That is only one level though, but i wanted it for portability so 2 levels was kind of out the question for me.
sorry another question, what is the largest pedal i would get considering i buy pedals on a budget of around a max of 100 pounds and play rock and blues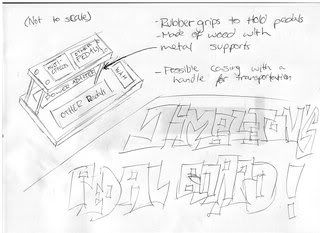 this i the basic idea of my pedalboard plus maybe some sort of casing for it with a handle so i can carry it
sorry my last pic was sh!t here is a better one
I would recommend carpet and velcro for attaching pedals. Will take pics of my new board once i add the aluminum trim and corner protectors. You can find my temp board on my profile. I angled it instead of using two levels (I tried that, but it was a pain to transport)
Join date: Mar 2007
30

IQ
just in case, and to keep cables in order, use those zip-ties. great for organization. just an idea. and best of luck mate.
i have had a new idea for securing pedals, i will route out a hole for them and they should slot in neatly, if that dont work i will use velcro
pedal wise, i would suggest a phase 90 to replace the multi effects unit one you are currently using (phase 90's are the s**t). also check into the Carbon Copy delay from MXR and the fuzz face.
im not reeli a fan of delay and fuzz faces are a little expensive so i might be going for the BYOC option

Join date: Nov 2007
280

IQ
multi-effects may be cheap but nowhere near as good as individual pedals.
i know that, ive had my multi effects for a couple of years now it was a gif and has served me well and the phase an flange settings reeli are great

Join date: May 2006
230

IQ
Noise suppressor/gate,
Compressor,
LPB,
Treble boost.
think im gonna buy a phaser or fuzz pedal later today, not sure though, depends how much is in my bank account that i dont need for going to russia next year