Massive Massive Massive Tab Book Collection
Hundreds Of Quids Worth Of Tab Books Accumulated Over My 4 Years Of Playing!
Selling The Lot As A Package!
The Talking Guitars Book Isn't A Tab Book But I Forgot To Move It. It Is Now Included For Being In The Wrong Place At The Wrong Time!.
Image Below So You Can See How They Look In A Shelf Situation
Top Half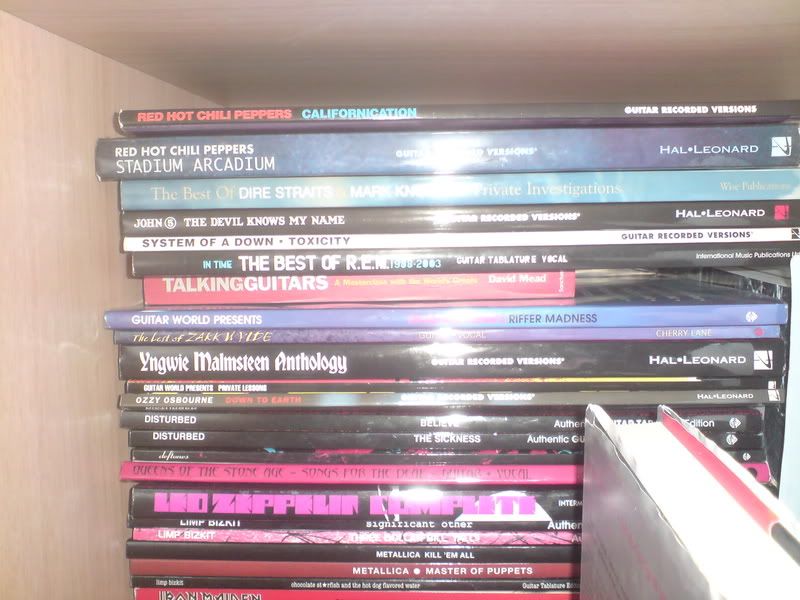 Bottom Half
Text List Coming Up For People Who Don't Like Pictures Of Stuff
Make A Realistic Offer.
Last edited by leftajarandy at May 16, 2008,

Join date: Jul 2007
60

IQ
$5+ shipping for the dire straits book?
Text List:
RHCP - Calafornication
RHCP - Stadium Arcadium (the one without the cd thing)
Dire Straits & Mark Knophler - Best Of
John 5 - Devil Knows My Name
System Of A Down - Toxicity
Best Of Rem - In Time
Guitar World - Dimebag Darrell Riffer Madness
Best Of Zakk Wylde
Yngwie Malmsteen - Anthology
Guitar World - Private Lessons
Ozzy Osbourne - Down To Earth
Disturbed - Believe
Disturbed - Sickness
Deftones - Deftones
Queens Of The Stoneage - Songs For The Dead
Led Zeppelin - Complete
Limp Bizkit - Significant Other
Limp Bizkit - Three Dollar Bill Yall
Metallica - Kill Em All
Metallica - Master Of Puppets
Limp Bizkit - Chocolate Starfish
Iron Maiden - Guitar Tab
Best Of Sum 41
Steve Vai - Alien Love Secrets (I think... It's The One With Bad Horsie)
Foo Fighters - Best Of
Eric Johnson - Ah Via Musicom
Slipknot - IOWA
Rage Against The Machine - RATM
White Stripes - White Blood Cells
U2 Best Of 1980-1990
System Of A Down - SOAD
System Of A Down - Steal This Album
System Of A Down - Mezmerize
System Of A Down - Hypnotize
Mastodon - Leviathon
Korn - Take A Look In The Mirror
Korn - Guitar Anthology
RHCP - Blood Sugar Sex Magic
RHCP - By The Way
Dire Straits Realistic Price
Also I Am In Uk - $5 is Like £2.50 and not worth walking down to the post office for. No offense like
I would rather sell as a package if possible.
what do you want for them? I'm interested in the Iron Maiden one and the Riffer Madness one
For Iron Maiden and Riffer Madness your looking at £15 + shipping. £7.50 each is ridiculosly cheap (as ridiculous as my spelling) when you consider the Maiden One Cost me £18 new
what about $40 plus I pay shipping for the Iron Maiden, Riffer Madness, Private Lessons, and the Rage Against The Machine. Thats $10 per book, I'd even go 15$.

Edit: What's in the private lessons book?
Last edited by hushie_619 at May 16, 2008,
$40 is only like £20 though

which then busts me down to £5 a book?! lol
ok, I don't wanna screw you over. $15 per book sound reasonable?
The private lessons book has got lessons from Vai, Satriani, Eric Johnson, Krk Hammet and Van Halen and Many More! Such as Nuno Bettencourt

It's lessons and warm ups to develop technique! It's a good en for aspiring shredders
how much would shipping cost to Cudworth Saskatchewan for the 4 books? Cuz I don't wanna pay any more than 70 bucks for the books with shipping.
Last edited by hushie_619 at May 16, 2008,
I'll find out and let you know!
Thanks man, I truly appreciate it. I'd definately go 60 for the four and pay shipping as long as its less than $15