String Stuck in Bridge Really Really Bad
Title says it all. I consider myself an intermediate guitarist but I guess this is a 'basic' problem. I have removed the saddle tried to punch it through with an awl and the end of another string (it's the high e string of course btw). I am considering disassembling the entire bridge, but would rather not. Decided to give it a day or two to calm down. The ball end must of turned or something. The only thing I can think of is to retighten the string (it isn't broken) and hope it pops into a different position. Any help?? It's a large high e string (though it souldn't matter), 11s is the set. BTW it's a johnson strat copy, so vintage tromelo.

Join date: Mar 2008
20

IQ
Oh, tricky.

Try to q-tip some grease down there, maybe, or perhaps spray a very quick spurt of wd-40 down there? Or whatever the Aussie equivalent of wd-40 is. Then try punching it out? Is there enough room to get small needle noses down there ( or up, is it string thru?) to try and extract it?
Last time it happened to me, I used a cocktail stick. But I guess yours is a bit too stuck for that...

+1 on the wd40 though and needlenose pliers.

I don't thing re-tightening will work, that might just make it worse!
Instead of using an awl, which comes to a point at the end, try a pin punch. The business end is cylinder shaped the whole way, and is squared off at the tip. Just make sure it'll fit into the hole in the trem and give it a tap. Remedy for future problems: Fender Bullet strings. They don't have those small round ball ends on them, it's shaped like a bullet instead. They can't jam up in the trem. Here's a pic of a pin punch in case you're not familiar with them.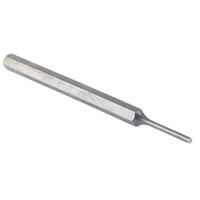 I finally got it out with alot of persistance and face time with mr. awl. What's strange is I expected to see something wrong with the string end, but it was fine. I was just taking them out to give them a clean but I can't bring myself to put it back in, I might check out those fender bullets