May 2008 AOTM: Eastman Acoustic

Join date: Nov 2005
264

IQ
Hey everyone, submitting this a month early as whoever signed up didn't submit there review.
AOTM June 2008 – Eastwood Acoustic
Specs:
Body: Dreadnought – No cutaway
Top: Spruce Laminate
Back/Sides: Mahogany Laminate
Neck: Mahogany
Fingerboard: Ebony
Binding: White
Background:
I've been playing guitar for around 4 years now, first starting out with a trusty Encore Electric from Argos, haha, It was 7/8's of a Strat's scale & size.
Basically, I'd had enough of it and went on the hunt to trade it in with its awful amp & hunt for a new electric & acoustic to go with. With my months pay in the bank and a guitar to trade in, I felt like nothing could stop me! I bought a lovely Epiphone Dot Studio & a 2nd hand case to go with it. I'd played this constantly, the thing that got me was the fret inlays, it was beautiful… it had none! Great, it was amazing.
I instantly took it home, played it for bit & went back out shopping for an acoustic to fit my now low budget (£60/$120).
I shopped around all day looking in various shops for decent priced starter acoustics at a decent quality (which, really, is awkward to find for that price).
I finally played a few around and about, which included Encores, Westfield & a beat up second-hand Epiphone AJ100 & an 'Eastwood'.
The Eastwood had a much nicer feeling neck than the rest (to me it did anyways).
I didn't really research into the guitar itself until I volunteered to write this funnily enough, but it's a fairly cheap guitar, basic starters guitar.
It cost £39.99/$80 with a gig bag.
I could have reviewed my Epi. J200CE but I wanted to do this a bit of justice as it get's played much more really.
The Guitar Itself:
It's really just a standard Dreadnought really, nothing spectacular.
I've quoted those spec's above off various websites when I researched into this guitar.
It's in Ebony/Matt Black finish with White (Ivory looking) plastic bindings, Chunky neck, stock tuners, plastic nut which I place graphite in every time I change the strings, plastic saddle which I use graphite on also.
Plays nice to me & that's all that counts.
Set-up to use D'Addario Phosphor Bronze .11's (light gauge, I know.).
Sound:
I wasn't spending £100's or £1000's on my first acoustic & I didn't expect too much of it really. It has a nice bright sound to it, not a heavy projecting sound like that of a Jumbo or anything, just like a standard Dreadnought acoustic.
Electronics:
No electrics in this baby, it's a no frills guitar for you to play.
Action:
Action was a little high for my liking when I got it.
Stayed that way til I experimented with weird & open tunings 2 weeks after buying it and snapping the 'G', haha.
I set up with the .11's I use now & I sanded the saddle down a bit to get good low-but-not-buzzing action
Reliability:
Had this guitar for about 3 & a half years now.
No problems at all except for the high action when I bought it but that's sorted.
It's went through Download 05, 06, 07, Leed's 06, 07, Bloodstock 07 (Yes, honestly)
& it's gonna' go through Leed's this year, possibly Download too.
Never had a problem so I think all is good.
Last Thoughts:
Personally, I'd recommend the guitar to anyone starting out on acoustic or those who want to mess around on the streets busking with a cheap but decent quality guitar.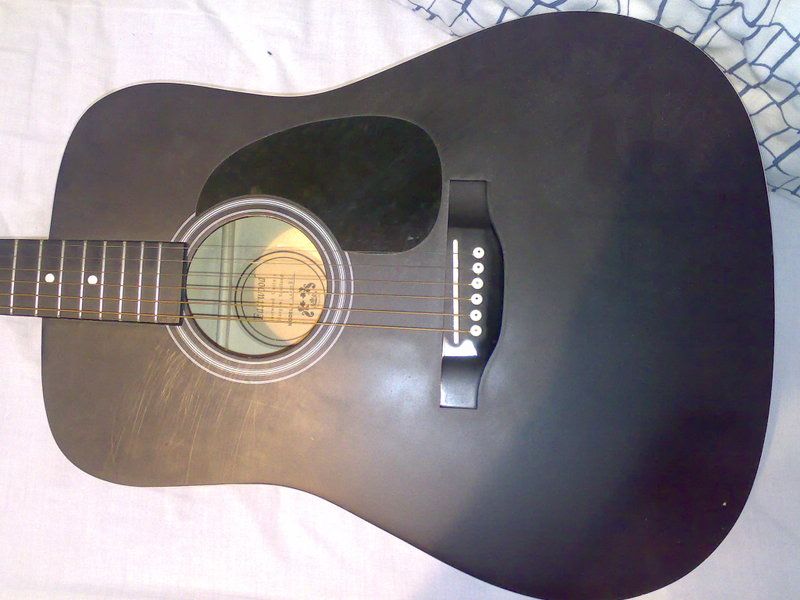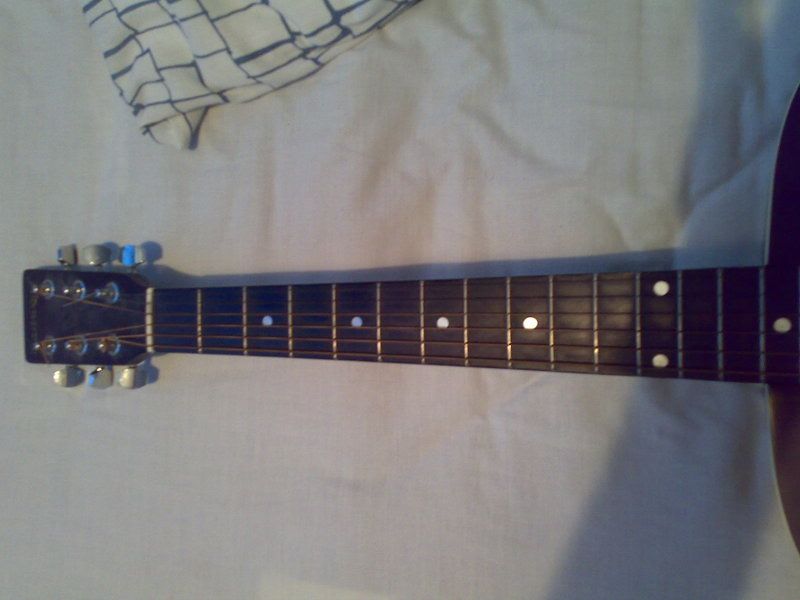 Join date: Apr 2006
130

IQ
Do you have the model number?

Join date: Nov 2005
264

IQ
I believe it's the LA125-BK?
I couldn't find a great deal of information on it, but if any input could be made, I'd appreciate it.
Hey, i got one of these. Where did you get the info on material for back and sides from? Ace guitar for price and im use to Martin's.