Look at this dragon(?) guitar!
Pretty strange... found it while looking for seven string guitars on Google and thought I should share this with you.
Personally i would never buy this kind of guitar.

Join date: Aug 2007
40

IQ
That's stupid.
But 35+ frets is rather interesting.
36 fretted, seven string guitar with a dragon head body is rather intresting...

Join date: May 2007
41

IQ

Join date: Feb 2008
160

IQ
cool design, but id never even think about buying and/or playing it

Join date: Jun 2006
10

IQ
is the lowest string off the neck?
wow that is different. I wonder who made it
you'd look like quite the **** if you brought that to a gig, its a bit too much of an egoy thing for me.
i wouldnt personally want it, but it looks quite cool, id just hope that the action could be adjusted cos damn that looks high
is the lowest string off the neck?
i noticed that too. It sure looks like it
the action looks very high judging from what the low e looks like haha
pretty cool design, but impractical.
is the lowest string off the neck?
It seems to be so, but it could be the angle when the photo was taken.
To have the feeling that the fretboard is it's tongue creeps me out

Join date: May 2005
220

IQ
I would love a guitar like that as a piece of art, or for recording purposes (36 frets?), but I wouldn't play it live.
EDIT: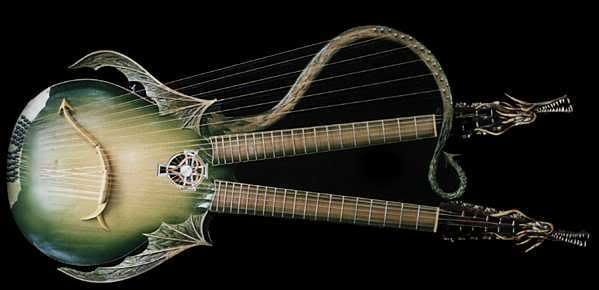 Last edited by Phill-Rock at May 23, 2008,
Actually, if I remember correctly, the 7 string is actually fretless and it is just hard to see the fretboard behind it.
Join date: Jan 2009
40

IQ
both guitars in here are awesome

gulli, do you have a place where you can get that guitar? i might get it when i get the money (although that would cost a good 40k

).
That's some awesome woodworking, and the 36 frets (THIRTY SIX FRETS?????? WHO NEEDS THAT??????) are interesting, but.......

I'm gonna have to say no