Urgent Floyd Rose help required.
While trying to change the strings for the first time since I bought a guitar with a floyd rose, I accidently loosened the bridge from the front (the front being the side where the pickups are visible). Me, being extremly impatient to fix my problem I removed the two screws holding the bridge in place in a hope that could somehow make something better.

I realize that I am about to get the flaming of a life time, but I REALLY need help.

Thanks
loosened it as in the strings werent done up tight enough? screw the screws back in and or take pics
I dont think so.

Im trying to explain, its difficult.

The bridge (I think also called the 'saddle') has no screws holding it in place. Its still attached to my guitar because of a bar that runs through the body.
youve taken the saddles out!!!! oh christ!! do you mean these :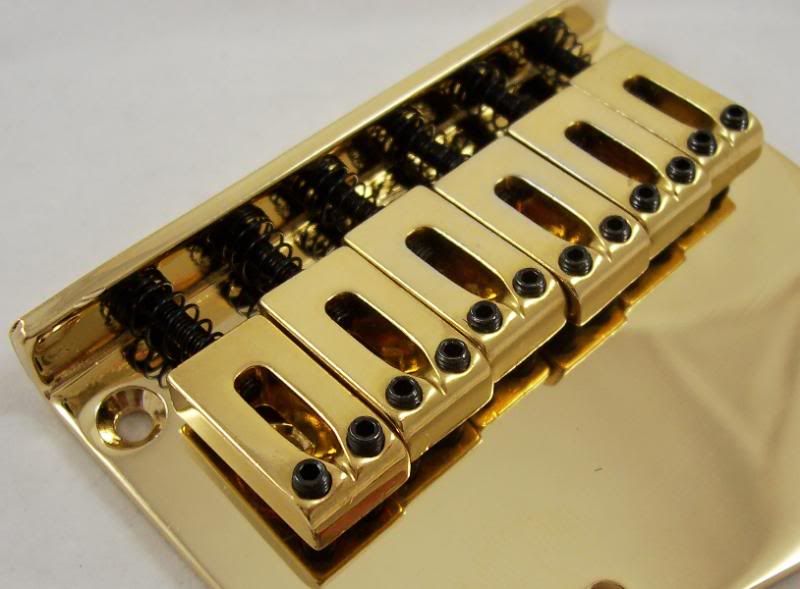 are no longer held on?
Nope not those! The thing the saddles are attached to, theres also a hole for my whammy bar in it.

I think its the bridge.
That would be the bridge I'm quite sure. If thats the case well... I'll let someone explain.

I can't.
thats the bridge yes. take your guitar to a shop asap your gonna mess it up otherwise.

this isn't a troll is it?

Join date: Oct 2007
440

IQ
Get. It. To. A. Guitar. Tech. Now!!
A troll? no i'm not.

Would you say it would be expensive to fix?

Join date: Oct 2007
440

IQ
So wait, you took out the posts that the knife edges pivot on?
Take it to a guitar tech before you F*ck anything else up.
30-40 pounds depending on what youve done
i wanna know wat he s done to it??
Sounds like an easy fix to me.

Join date: May 2006
230

IQ
Sounds like an easy fix to me.
+1
Open the rear trem cavity, loosen the springs off, then remount the bridge posts and bridge. String back up, get some tension back on the springs, then get the action dialled.
It'll take ages, but you'll learn something whilst you do it.
Also, be sure to mark (with a piece of tape) where the trem claw is at the moment. Then, you'll be able to return it to the correct position easily, taking most of the work out of the setting up. You'll already have it balanced, and will just have to adjust the pivot screws to set the action.