The ONLY Cult Thread

Join date: Oct 2007
10

IQ
Well, I saw a post in one of the scientology threads. And I figure, why not have an only cult thread?
So post here to discuss your cult/whatever else it could be called.
IE: - Do you belong to one?
- If so, how long?
- What do you think of cults?
etc.


Join date: May 2007
10

IQ

Join date: Apr 2008
10

IQ
I belong to the cult of gaming. All hail our lord Kojima!

Join date: Oct 2006
20

IQ
Because if the Scientology one already exists then this can't be the only one.

Join date: Feb 2008
30

IQ

Join date: Oct 2006
20

IQ
If you are interested in dangerous cults, this is one of the most disturbing audio clips that has been floating arount the internet for a while. The FBI found this audio recording at Jonestown after the massacre. It's their leader ordering his followers to kill themselves.
Be warned: not for the faint of heart.
http://www.archive.org/details/ptc1978-11-18.flac16

Join date: Nov 2007
20

IQ
Me and a few friends started one(as a joke)... this is our advertisement for it...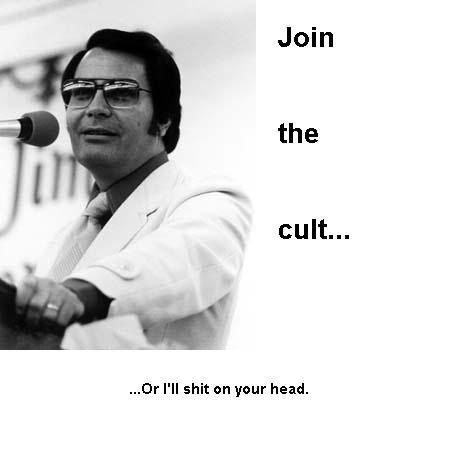 Were also working on a video


Join date: Feb 2007
30

IQ
There is no point to this thread.
I'm Catholic, does that count?