guitar im currently making

Im a fair way through making it now, almost entirely made with handtools with the chisel being my favourite

I bought the neck but i think ill try making one on my next project. The body is made from a solid piece of walnut, has a Wilkinson tremolo and will have a dimarzio super distortion in the bridge position. All that is left to do is drill a few wire holes, fit the jack wire it up and finish it. I have already palyed it albeit without electronics and it plays beautifully, even after divebombing it barely goes out of tune (after some adjustment to the nut). Ill post more as i near completion

.
Last edited by 02matada at Jul 21, 2008,
looking solid!

is that a carved top?

Join date: Dec 2007
30

IQ
thats pretty light walnut...looks good, what pickup for the neck position?
The top isnt carved a lot, sort of beveled over: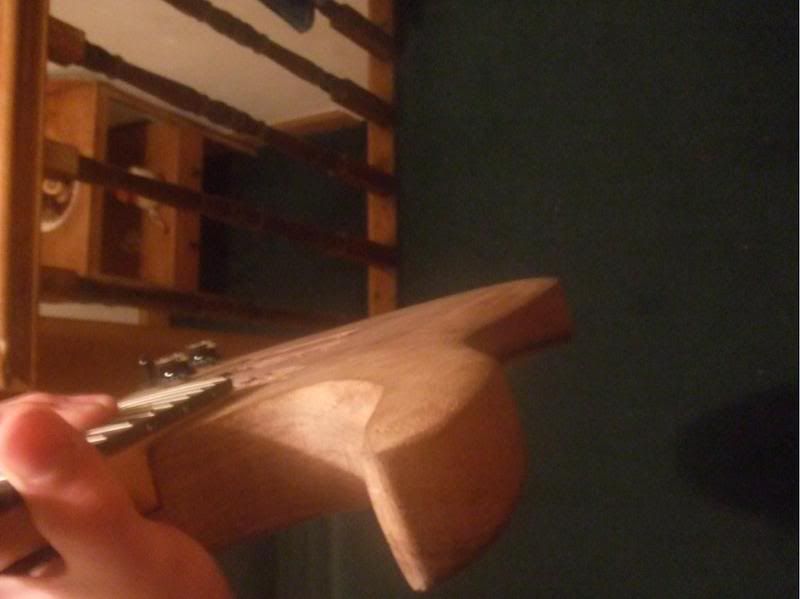 and for the neck pickup i have an artec, cant remember which one, fairly high output

but i don't use the neck pickup so much so a bog standard one will do.
And the walnut is fairly light, as each side is sapwood with the middle being heartwood, when i oil this though its gonna darken up a lot and look amazing. I've worked with walnut before and love the stuff

Sheckshy.

i'm contemplating a little bit of a carve inside the horns (as you have) on my build, but it's going to be fairly square-edged, so i'm a little apprehensive.

seeing yours makes me like it though!
I just took a half round rasp to it and after some elbow grease it took shape and there i had it carved. The hardest part is sanding inside there to remove tool marks
I'd imagine so!

I'm seriously considering this now, but I plan to do the forearm and tummy cuts before anything else.
If you do decide to do it best of luck

i do love me some walnut, make sure you sand that up to 400 grit atleast so that the oil will really make it look beautiful. walnut is VERY unforgiving to scratches/splotches. if you miss a spot sanding, you will know it, and you will regret it.
Heres the back of my oiled tele, perfectly sanded, just straight danish oil on it.
edit :
wow, its like a mirror.
Last edited by LP Addict at May 31, 2008,

Join date: Dec 2007
30

IQ
oil + walnut = epic.

hope this comes out great!
hurrah so ive finally finished it! On and off its taken 6 months and im really happy with the result, ill post some clips of me playing it soon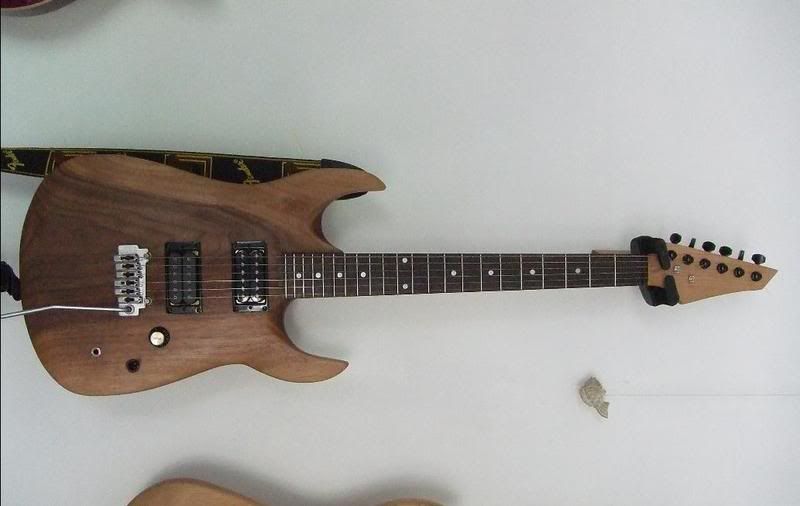 Looks awesome, I wish I could built a guitar

Lack of equipment/money, mainly. In my high school though, theres a woodshop class.. Dunno if they have suitable equipment. If they do I'll probably end up taking it next year

it just seems so hard, and if you make any sort of imperfection it will be really bad..

Join date: Dec 2007
40

IQ
It looks a bit long and fat. Long behind the tremolo area and fat around the neck pickup where the bodyline curves inwards. I'm not trying to shoot down a good build, I'm just stating my observations. Was that done intentionally? Did you follow a schematic or anything?
hmm is it? anyway i just drew round a strat and adjusted it a bit and im happy with the shape :P. now i think of it i kinda see what you mean but im very happy with it