Schecter C1 Hellraiser Fr
Schecter Hellraiser C1 Fr (Black Cherry)

This guitar is mint condition, got it for christmas and to be honest i thought it was the most amazing guitar ever. Untill, the stupid floyd rose kept acting up. I had gc do a setup but they ****ed it up. So now it sits here waiting for a home.
This guitar is incredible, floyd roses arent for me.
Im trying to get 650 shipped for this bugger.
However, i will accept trades.
I dont have many good pics right now, my friend said hell lemme borrow his camera to take better pics. So heres what i got.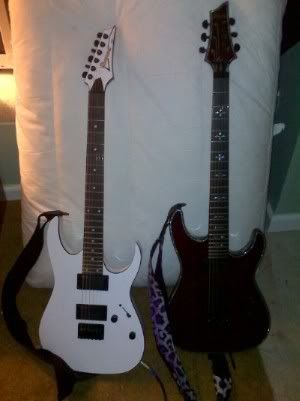 More Pics Comming
Nice guitar, I don't think I can afford it though...
What exactly is wrong with the floyd rose
What type of Floyd Rose is it?
oh its an original

and nothings wrong with it

it just needs a good setup......

floyd roses just arent for me
How many frets?
wait never mind. I just saw. You know, I REALLY wish I could trade my guitar for yours, but it wouldn't be fare on your part. I'd be getting a dream guitar, you'd be getting an Ibanez 350 dx, which has the Edge III, another FR. I wish though.

Last edited by fob12 at Jun 3, 2008,
im looking for mostly gibsons (low end), Esps, Schecters

Join date: Sep 2007
20

IQ
I know you didn't list fender, but I have a MIM fat strat if you're interested.
no thanks, besides its not really worth 650

thanks anyway
What do you mean not worth $650?
i a tallking about the fender
i didint even see your offer, as far as trades go id like to get a guitar near my asking price.
Are the pickups the EMG 89 and 81tw?
beautiful guitar mate

but looking for mainly metal
Same to you. If your Floyd is still giving you a lot of trouble, you could fix it by blocking it with a piece of wood. It's a simple but effective fix.
its just that i wanted the hardtail version

my mom got the fr

and i tried a peice of wood idk
its just that i wanted the hardtail version

my mom got the fr

and i tried a peice of wood idk
What you want to get then is a Tremol-no.
http://www.tremol-no.com/faq.asp
but can i tune it straight up with that

Join date: Aug 2006
557

IQ
Schecter 006 Extreme + $100 bucks for it?
pics of c1 and 006 extreme?
i got a c1 classic in 3 tone sunburst not even a year old, interested?
Bump

up to the top you shall beeeeee

Join date: Feb 2007
50

IQ
my modded jackson warrioir (hardtail) + a nokia n80?

Join date: Mar 2008
50

IQ
Dude I know how ya feel. I bought an LTD MH-1000 (identicle guitar) it has the FR but I wanted the hardtail and couldnt find one. The FR aint for me either and I wanna get rid of it after a couple months and NOW the store I got it from has the hardtail version and for $200 less! gl on the sale. It's a beautiful guitar if ya like havin a Floyd Rose.