Kramer Baretta Rat Rod Custom!
I just got the new neck in today for my latest project so I thought I would brag a little. I bought this f*cked up Kramer body cheap on ebay. The first pic is the body when I first got it. The second pic is a mockup from two days ago. More parts are still on the way.
Here's the recipe:
1 Really cool guitar body
- Sand, rout an F-hole, and paint.
Add: 1 Moses graphite neck.
1 Gotoh F.R. Tremolo
1 S.D. JB humbucker
1 TS9 push pull vol knob mod
1 Solid brass pickup mounting ring
1 set Sperzel locking tuners
1 LSR roller nut
1 strangely angled picture
Shake and Bake: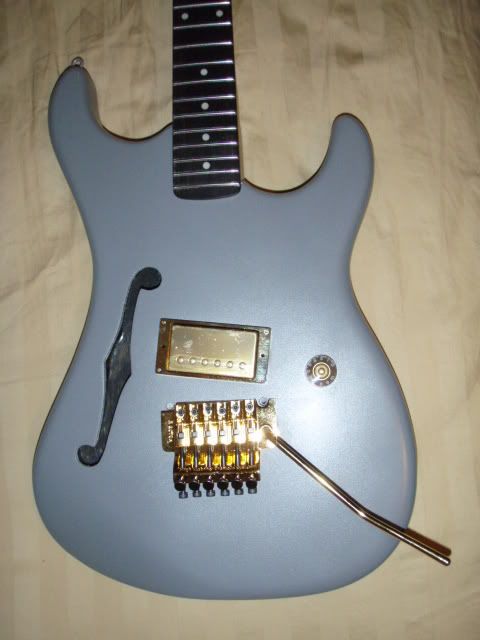 I'll post in The Gallery when it's done. I want to refin the body again with a darker grey to show off the gold hardware better. Other than the color, I think it's going to be one bad ass guitar. I'd love to hear your opinions.

Join date: Jul 2007
70

IQ
looks good. if i were you, i would kept the body the same way you got it and just put for clear coat on it. looked sick.
i dont like the way it looks. one humbucker and the rest just plain=no bueno for me.
I loved the original look of it too, that's why I bought it. However, there were several refins on top of each other with many different kinds of paint (including latex house paint).

I did say I'm re-doing the paint job. I don't like it very much either. The reason I wanted to brag was my parts list. No matter what it looks like, it is going to sound and play like a dream.