I've found my Sole-Mate! (NPD)

Join date: Jan 2004
120

IQ
Bought a used Vanamps Reverbamate Sole-Mate reverb 'pedal' and it got here today.
Paid 200 bucks (retails around 290 i believe) and this thing is phenomenal for what it does. For those who dont know what this is, its an actual reverb tank in pedal form.
I love the way the notes just blossom and sustain, its actually pretty inspiring.
If you've got the scratch, the Holy Grail is a joke compared to this (that is, for those who dont need all the differnent types of verb the HG offers). This does one thing, and does it absolutely great.
my only complaint - its huge!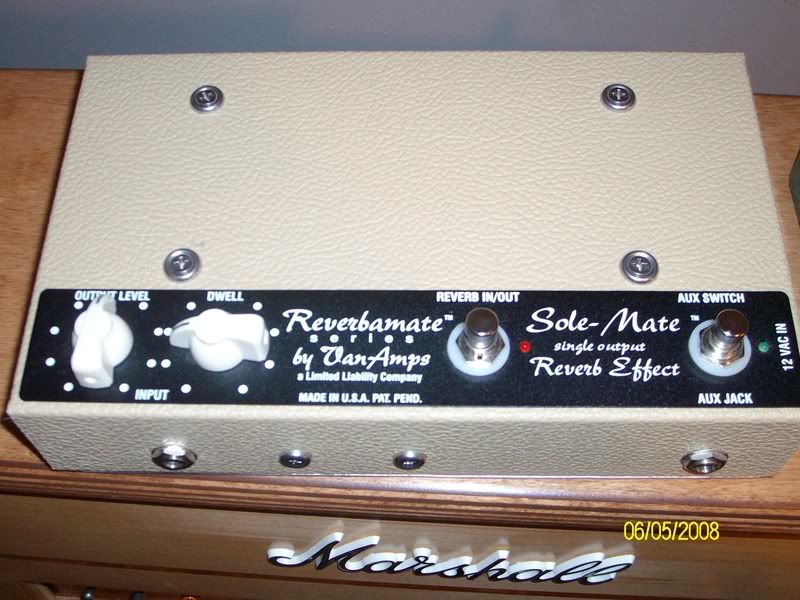 Last edited by igotabcrich32 at Jun 5, 2008,
That is officially awesome

*is insanely jealous of your gear*
I don't know about that pedal but your Marshall is sexy as hell.
Join date: Jan 2008
480

IQ
Hmmm might have to check it out....
And nice choice of pick ya got there.. I use the same ones....


Join date: Jan 2004
120

IQ
thanks guys! i really like my setup, sounds great for what i play. Eventually i plan on adding a Fender Bandmaster Reverb head, but thats not for sometime.