DigiTech RP500: Tell me good things

Join date: Sep 2007
130

IQ
DigiTech RP500
I'm thinking about buying one. Tell me about them. Like, how long is the lag in-between effects??? How much reach does the Wah have??? just things like that.
Here's some more things about it: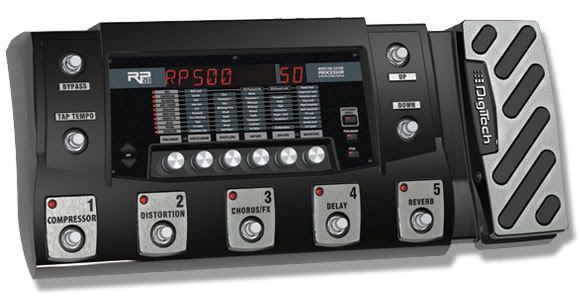 Versitality
Every guitar player is different from their core tone, how they achieve it, and how they control it on stage. Whether you get your tone from your amp and just need a few effects or get your tone from a single box the RP500 has the sounds and control over them that you need. Unlike multi-effects that take over your tone and limit your control, the RP500 is an effect switching system over internal stompboxes, effects, and amps. Control your tones in Preset or Pedalboard mode. The Preset mode allows you to switch between saved presets and can drastically differ from one to another. The Pedalboard mode allows you to turn on an off individual effects and stompboxes with ease within a preset.
To top it off, the unique Amp/Cabinet Bypass mode defeats internal amplifiers and cabinets in the RP500 leaving you with just stompboxes and effects. Your RP500 is now the perfect collection of stompboxes and effects with unprecedented control to use with your distorted or clean amplifier. Augment and spice up your sound any way you'd like and retain the control you need with the RP500.
Specifications
General Specifications
Chassis

urable cast metal construction
Display: Large 8 character alpha-numeric and 2 character numeric LED display
Controls:
Footswitches: 9 heavy duty vacuum-style switches control Bypass, Tap Tempo, Bank up/down, Program up/down, Tuner, program access and stompbox/effect on/off
Expression pedal Built-in
A/D Converter: 24-bit high performance audio
D/A Converter: 24-bit high performance audio
Sampling Frequency: 44.1kHz throughout
DSP Section: 1 Audio DNA2™ DSP Processor
Preset Memory: 99 User / 99 Factory Presets
Analog Input Connections
Guitar input:
Impedance: 1M Ohms
Maximum input signal: 8 dBu
Analog Output Connections
Line Outputs:
Impedance: 1K Ohms unbalanced / 2K Ohms balanced
Maximum Output Level: 23 dBu
Mixer Outputs:
Impedance: 2K Ohms balanced
Maximum Output level: 23 dBu
Headphone Outputs:
Minimum Headphone
Impedance: 50 Ohms
Output Power: 250 mW / channel
Electronic SNR: ≥ 110dB
USB:2.0 compliant
Audio streaming: 2 channels to computer, 2 channels from computer
Sample rate: 44.1 kHz
Size/Weight
Unit Dimensions: 19.5" x 2.25" x 8.75" (W x H x D)
Shipping Dimensions: 21" x 4" x 11" (W x H x D) (approximate)
Shipping Weight: 8.0 lbs (approximate)
Computer Minimum System Requirements:
Windows: Vista Home/Premium XP Home/Professional (SP2 installed, .NET 2.0 installed*)
Pentium®/Athlon™ 1.4GHz or later
512MB RAM (1GB RAM recommended)
180MB hard disk space for application
DVD-ROM drive
USB Port
Internet connection required for Cubase activation
*.NET 2.0 will be installed during installation of X-Edit software if required on XP systems
Mac: OS 10.4.x or later
PowerPC G4/G5 1GHz or later
512MB RAM (1GB RAM recommended)
180MB hard disk space for application
DVD-ROM drive
USB Port
Internet connection required for Cubase activation
Distortions
SCREAMER (Based on an Ibanez® TS-9)
TS 808 (Based on an Ibanez TS-808 Tube Screamer)
SPARKDRIVE (Based on a Voodoo® Lab Sparkle Drive&reg

OD OVERDRIVE (Based on a Guyatone® Overdrive OD-2)
DOD 250 (Based on a DOD® 250 Overdrive/Preamp)
RODENT (Based on a Pro Co RAT&trade

MX DISTORTION (Based on an MXR® Distortion +)
DS (Based on a Boss® DS-1™ Distortion)
GRUNGE (DigiTech® Grunge&reg

ZONE (Based on a Boss MT-2 Metal Zone&reg

DEATH METAL (DigiTech Death Metal&trade

GONKULATOR (Based on a DOD® Gonkulator Ring Modulator)
8TAVIA (Based on a Roger Mayer Octavia&trade

FUZZLATOR (Based on a Demeter Fuzzulator)
CLASSIC FUZZ (Based on a DOD Classic Fuzz)
FUZZY FACE (Based on an Arbiter® Fuzz Face&trade

BIG PI (Based on an Electro-Harmonix® Big Muff Pi&reg

REDLINE (DigiTech® Redline Overdrive)
Amps
57 CHAMP Based on a '57 Fender® Tweed Champ®
57 DELUXE Based on a '57 Fender® Tweed Deluxe™
59 BASSMAN Based on a '59 Fender® Tweed Bassman®
62 BROWN BASSMAN Based on a '62 Fender® Brownface Bassman®
65 TWIN REVERB Based on a '65 Fender® Blackface Twin Reverb®
65 REVERB (Based on a '65 Fender Blackface Deluxe Reverb®
65 JTM-45 (Based on a '65 Marshall® JTM-45
68 SUPER LEAD PLEXI Based on a '68 Marshall 100 Watt Super Lead (plexi)
68 JUMP PANEL Based on a '68 Marshall Jump Panel
77 MASTER VOLUME Based on a '77 Marshall Master Volume
83 JCM800 Based on an '83 Marshall JCM800
93 JCM900 Based on a '93 Marshall JCM900
01 JCM2000 Based on an '01 Marshall JCM2000 (Solo Channel)
62 AC15 Based on a '62 Vox® AC15
63 AC30 TOP BOOST Based on a '63 Vox AC30 Top Boost
69 HIGH WATTAGE Based on a '69 Hiwatt® Custom 100 DR103
81 MARK IIC Based on an '81 Mesa Boogie® Mark II C
01 DUAL RECTIFIED Based on an '01 Mesa Boogie Dual Rectifier
MARK 4 Based on an '93 Mesa Boogie Mark IV
TRIPLE RECTIFIED Based on an '01 Mesa Boogie Triple Rectifier
99 LEGACY VL-100 Based on a Carvin® Legacy VL-100
96 MATCH HC-30 Based on a '96 MatchlessTM HC30
88 SLO-100 Based on an '88 Soldano SLO-100
GA-40 Based on a Gibson® GA-40
5150 II Based on a Peavey® 5150® II
JAZZ COMBO Based on a Roland® JC-120
SOLAR 100S Based on a Sunn® 100S
HT-100 Based on a Randall® HT-100
OJ 120 Based on a Orange™ OR 120
SUPER G Based on a Laney™ Supergroup
DIGITECH SOLO DigiTech® Solo
DIGITECH METAL DigiTech Metal
DIGITECH BRIGHT CLEAN DigiTech Bright Clean
DIGITECH CHUNK DigiTech Chunk
DIGITECH CLEAN TUBE DigiTech 2101 Clean Tube
DIGITECH CRUNCH DigiTech Crunch
DIGITECH BLUES DigiTech Blues
DIGITECH FUZZ DigiTech Fuzz
DIGITECH SPANK DigiTech Spank
DIGITECH HIGH GAIN DigiTech High Gain
DIGITECH MONSTER - Maxed out gain
DIGITECH "TWEEDFACE" – Tweed preamp w/Blackface poweramp
DIGITECH "BLACKBASS" – '65 Blackface preamp w/ Bassman poweramp
DIGITECH STONERROCK – Thick, sludgy distorted amp tone
DIGITECH DARKMETAL – Responsive, tight metal tone
DIGITECH TRANSISTOR – Solid state transistor amp sound
DIGITECH BROWNSOUND – Hot rodded 80's stack tone
DIGITECH MOSH – Chunky metal tone with just the right amount of sizzle
2101 CLEAN TUBE DigiTech GSP2101TM Artist Clean Tube
2101 SATURATED TUBE DigiTech GSP2101 Artist Saturated Tube
DIRECT No amp model
DREADAUGHT ACOUSTIC
JUMBO ACOUSTIC
Cabinets
CHAMP 1X8 Based on a 1x8 '57 Fender® Tweed Champ®
DELUXE 1X12 Based on a 1x12 '57 Fender Tweed Deluxe®
DELUXE REVERB 1X12 Based on a 1x12 '65 Fender Blackface Deluxe Reverb
BRITISH 1X12 Based on a 1x12 '62 Vox® AC15 w/20W Vox Speaker
BLONDE 2X12 Based on a 2x12 '57 Fender Blonde Bassman®
TWIN 2X12 Based on a 2x12 '65 Fender Blackface Twin Reverb®
BRITISH 2X12 Based on a 2x12 '63 Vox® AC0 Top Boost w/ Jensen® Blue Backs
BASSMAN 4X10 Based on a 4x10 '59 Fender Tweed Bassman®
BRITISH 4X12 Based on a 4x12 Marshall® 1969 Straight w/ Celestion® G12-T70
GREENBACK 4X12 Based on a 4x12 Marshall 1969 Slant w/ Celestion 25W Green backs
FANE 4X12 Based on a 4x12 Hiwatt® Custom w/ Fane Speakers
BOUTIQUE 4X12 Based on a 4x12 '96 VHT® Slant w/ Celestion Vintage 30's
VINTAGE 4X12 Based on a 4x12 Johnson® Straight w/ Celestion Vintage 30's
DIGITECH SOLO 4X12 4x12 DigiTech® Solo
DIGITECH BRIGHT 2X12 2x12 DigiTech Bright
DIGITECH METAL 4X12 4x12 DigiTech Metal
DIGITECH ROCK 4X12 4x12 DigiTech Rock
DIGITECH ALT 4X12 4x12 DigiTech Alt Rock
DIGITECH VINTAGE 4X12 4x12 DigiTech Vintage
DIGITECH CHUNK 4X12 4x12 DigiTech Chunk
DIGITECH SPANK 4X12 4x12 DigiTech Spank
DIGITECH SPEAKER COMP 4x12 DigiTech Speaker Compensation
DIRECT No cabinet model
Effects
Wahs:
DigiTech® Wah
Cry Wah Based on a Dunlop® Cry Baby™ Wah
Clyde Wah Based on a Vox® Clyde McCoy™ Wah
Compressors:
DigiTech® Compressor
CS Compressor Based on an Boss® CS-2 Compressor/Sustainer
Dyna Comp Based on an MXR® Dynacomp™
Noise Gate:
DigiTech® Silencer™ Noise Gate
DigiTech Auto Swell Gate
EQ:
3-band semi-parametric EQ
Chorus Stompbox Models:
DigiTech® Dual Chorus
DigiTech Multi-Chorus
DigiTech Glistening Chorus
CE Chorus based on a Boss® CE-2 Chorus
TC Chorus based on a TC Electronics® Chorus
Flanger Models:
DigiTech® Flanger
DigiTech Triggered Flanger
MX Flanger based on MXR® Flanger
EH Flanger based on Electro Harmonix® Electric Mistress™
AD Flanger based on ADA™ Flanger
Phaser Models:
DigiTech® Phaser
MX Phaser based on MXR® Phase 100
EH Phaser based on Electro Harmonix® Small Stone™
Pitch Models:
DigiTech® Whammy™
DigiTech® Pitch Shift
DigiTech® Detune
DigiTech® Harmony Pitch
Octaver based on a Boss® OC-2 Octaver™
Vibrato / Rotary Models:
DigiTech® Vibrato
DigiTech® Rotary
DigiTech® Vibro / Pan
Unovibe based on a Unicord Uni-Vibe™
Tremolo Models:
DigiTech® Tremolo
DigiTech® Panner
DigiTech ScatterTrem – Dual tremolo effect
Opto Tremolo based on a Fender® Opto Tremolo™
Bias Tremolo based on a Vox® Bias Tremolo
Envelope / Special Models:
DigiTech® Auto Yah™
DigiTech® YaYa™
DigiTech® Synth Talk™
DigiTech® Step Filter
DigiTech® Sample & Hold
DOD FX25 based on DOD® FX25 Envelope Filter
Delays:
Digital Delay
Analog Delay
Pong Delay
Modulated Delay
Tape Delay
Reverse Delay
DM Analog Delay based on Boss® DM2 Analog Delay
Echo Plex based on a Maestro EP-1 Tube Echoplex
Reverbs:
Lexicon® Ambience
Lexicon® Hall
Lexicon® Room
Lexicon® Studio
Spring based on a Fender® Twin Reverb™
EMT240 based on an EMT® 240 Plate Reverb
Last edited by Angus_Junior35 at Jun 7, 2008,