First Pedal Build (with pics) :)
Hi UGers,
It was my birthday yesterday and i got a pedal kit (plus some other stuff). Im making it at the moment and thought i might post it on UG. Its the 250+ and im making it to the DOD 250 overdrive specs. Unfortunately i had already populated the PCB before i took the pics but oh well. Here we go:
All the stuff (apart from PCB)
populated PCB:
Tonight i am actually soldering the components to the PCB and will keep you guys posted.

Nice, I'm expecting some sound clips after you're done.
Nice
Do you know where the kit was ordered from? I want one!
I made a generic distortion pedal. Most of the work is in the drilling of the case, making sure everything fits, you have left enough room between the pots etc. Something I failed epically at

ive wired it up and just need to add a 9v battery and paint it or sumtin, pics up in a minute

Any ideas for paint???
heres the pic of the innids of the pedal (i tested it out and it works YAY

):
could you use a switch instead of a button to turn it on or off?
Doesn't it rock when you try it and it works. I'm always amazed when I re solder some guitar components and it works.

Maybe racing stires for the paint job?
could you use a switch instead of a button to turn it on or off?
Nah, i think this one need a 9 pole 3dpt footswitch
no you could use a dpdt switch (6 lug one)... I don't see why you would want to. But it could still be true bypass. You just couldn't have an LED. which is why you really need the 9 lug stompswitch for
im thinking of modding a pedal into a guitar which is why i was wondering :P
yea a 6 prong switch would work with true bypass too. Hell you could just have a stompswitch on your guitar i think that would be pretty cool, lol
yeah but there pretty hard to press

Join date: May 2007
100

IQ
millenium bypass uses dpdt and lights an LED as well as providing true bypass. great if you're in the UK and 3PDT switches arn't freely available

Join date: Aug 2006
180

IQ
they do make 3PDT toggle switches. I accidentally bought some from futurelec when what i wanted was stomp switches.
I made an MXR Distortion+ Ghetto style out of random electronics parts i had lying around.
It has those funny trimmer knobs that u need a screwdriver to change and is nailed to a block of wood. you cant switch it off either lol
NEW PIC - Box set and ready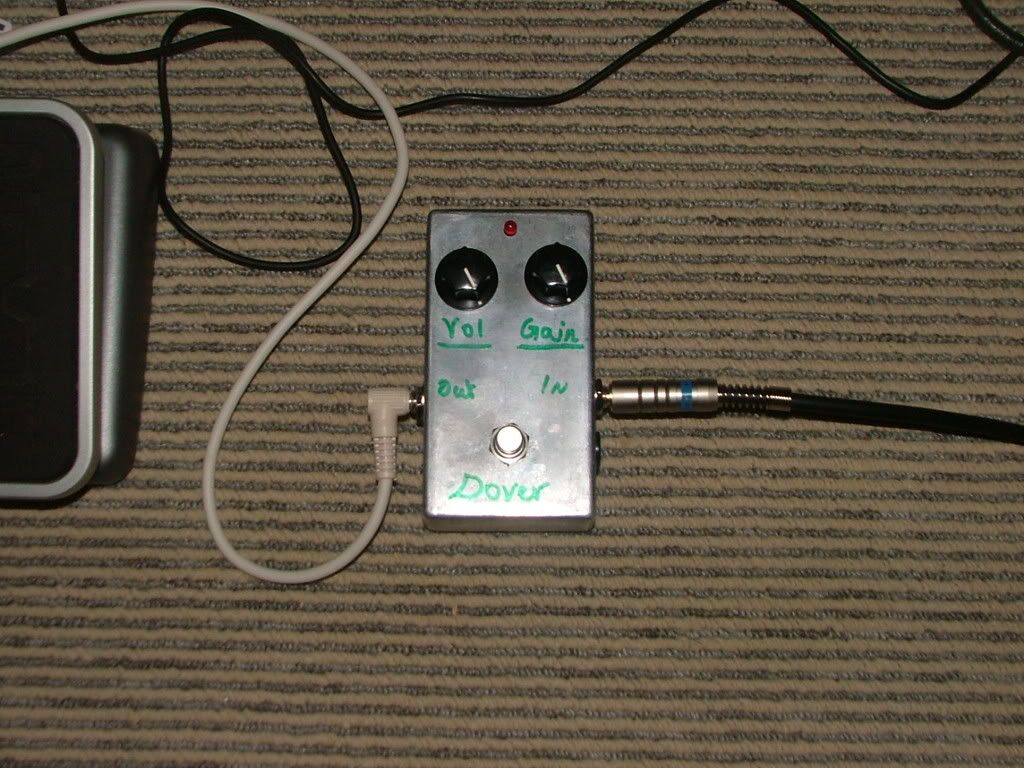 Sound clips coming soon once i find out what is wrong with the LED. Still need to paint it so suggestions would be welcome. And also is normal spray paint fine with some clear coat or do i need special paint?
i tryed the LED each and every way and still it didnt work, and i didnt use the GGG kit, it was a BYOC and that one is very different to the layout i went by