New Amp Day!!!!
Hello people, I'm finally back from the banned!
Im sorry for this wall of text, to get to the point, just scroll down a little bit...
--------------------------------------------------------------------------------------------------
I just got a "new" amp today. I have a DRRI, but I just moved and it will arrive in November, so I got another one to use until then, but I almost like this just as much.
My question is, what is it?
I bought it used from a little store, which usually don't sell amps, they said that it was homemade, or at least done by a person, not a factory. They also said that it was from the 60s/70s.
In the lower right corner, it says "CD" and below that "Crawford".
One thing that I'm a little curious about is that there's no stand-by button, which I've seen on most tube amps, I'm not sure about that though.
As you can see in the pics, it's most likley a 2x12, havent had it open though.
It sounds pretty good just as it is, but it really shines with an equalizer. Alse really nice and crisp with a fuzzface.
I got it really cheap, about 85$, just because no one knows what it really is.
It only has three knobs; Bass, Treble, Volume. It may look like a bass amp but I tried and it sounded really bad and just wrong...
The amp is in good condition for being so old as they told me it was.
--------------------------------------------------------------------------------------------------
My question to you is, what do you know about this amp, when and where was is made and how much would it be worth?
--------------------------------------------------------------------------------------------------
Here are some pics...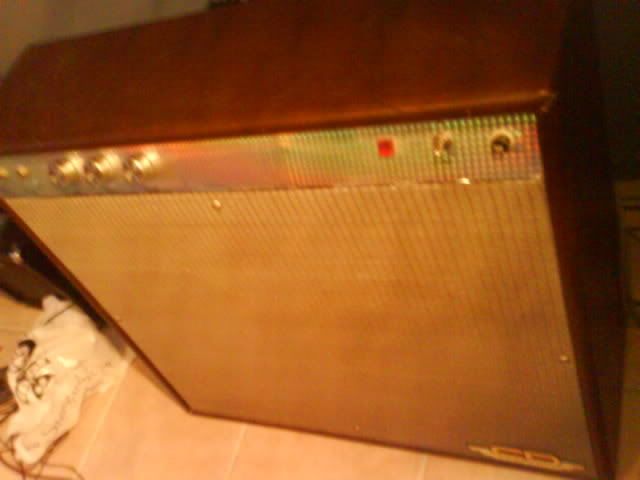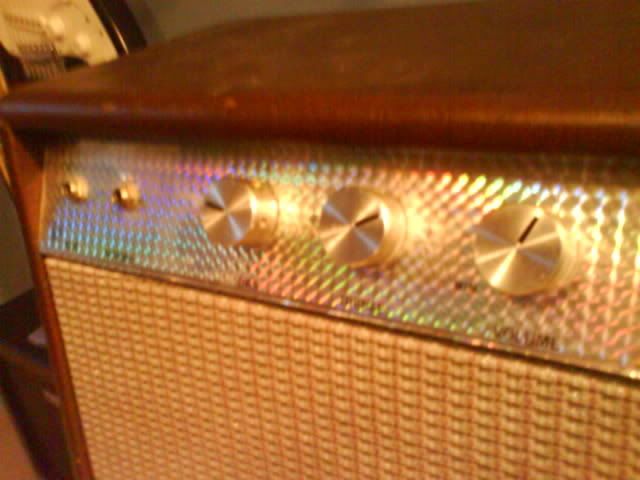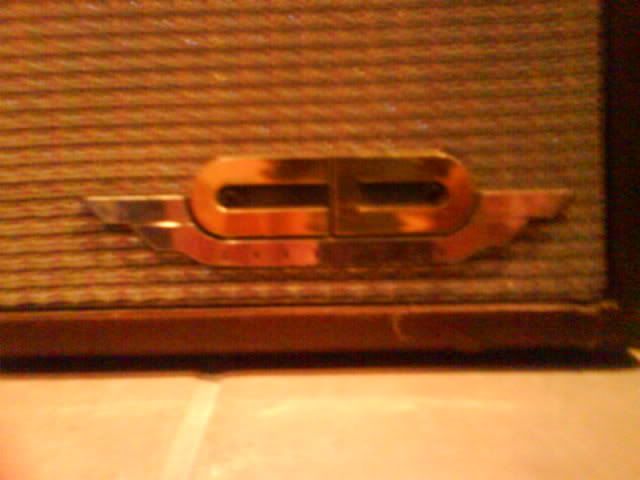 Sorry for the quality of the pics, but I hope it should be good enough for you to see!
Thank you and I'll hope we'll come to a solution of this mystery!
*EDIT - Fixed the pics"
Last edited by FiliphSlim at Jun 18, 2008,
pics dont show up, atleast not for me

Join date: May 2008
10

IQ

Join date: Jun 2007
40

IQ
Pics, they aren't there!

Look inside, is it handwired? What kind of tubes are in it? What is the tone like?

Anyways, I think any tube amp is well worth 85 bucks. Especially an older one.

Join date: Jan 2008
480

IQ
Must be Bugera's new clone.. I hear they call it the RED X
Pics should now be visible!

And no, I havent looked inside it yet, so I have nothing on the speakers, tubes or anything.
Look inside and give us bare-circuits pr0n!
The guy who had it before me, tried to open it just before I got it but it was some kind of sealing, so he couldn't get it off. But I know nothing about it. I could try, but that will be tomorrow...
Can you atleast get us sound clips real quick?
And are you sure it's tube?
No, I'm not sure it's tube, to late to give a sound clip though. But I will put one up tomorrow!
Alright.

That's one funky amp though.
Haha, I love the way it looks and no, it don't play disco...
Do you guys have any more suggestions? Maybe it's easier with a soundclip. I'll hope I get time to put one up tomorrow.

Whatever this thing is I'll always love it! hehe

Join date: Jul 2006
80

IQ
Here is how you find if it's tube.

Turn it up extremely loud and if it sounds heavenly, it is tube. If it sounds like farts, SS.
Yeah, i'm wondering if it's tube also.

Can you give us an explanation on how it sounds like when cranked?
Maybe this is an SS amp, I have a two points which may prove that.

1. There is only one on/off button, no standby.
2. I can play directly when I start it, no warm-up time.

But there are also things that I think is more tube-like...

1. It takes up cellphones and stuff like that really much.
2. It sounds pretty good cranked.
3. The guy I bought if from thought that it was tube, don't know if he had any idea...

What do you say?

I don't know very much about tube amps, though. The only tube amp I've had is my DRRI, which I only had like one month before I moved from U.S. to Sweden...

I can't really give a good clip of how it sounds because the only thing I can record with right now is my cellphone...
The fact that it's a ventless, closed-back combo would lead me to think it's SS.
Ok, maybe you're right. But what does it matter, It still sounds pretty good and better than many SS I've heard before.

But have any of you guys heard of this brand before? When could this have been made? Do you really think it's about 30-40 years old? I found nothing useful from google. :S

Please help, would be nice to know about this mystery-amp...
I dunno, but some sound clips would help us decide if it's a nicer SS, or your typical practice amp.
Ok! I'll try to get some decent ones tomorrow night. Work all day today...

Do you want me to record with fuzz & equalizer or just clean?
Ok! I'll try to get some decent ones tomorrow night. Work all day today...

Do you want me to record with fuzz & equalizer or just clean?
clean first and cranked later pls

Hello again, sorry for the slow update but now I got something for you. I took off both the backplate of the amp and the grill and took some photos, if that might help you anything.
I also recorded a few really sloppy soundclips on my cell, the quality is
really bad
but I don't know. I guess it's better than nothing and it might help you a little at least.
Here are the soundclips, I hope they work for you. I use QuickTime Player to listen to them...
Amp Cranked, Fuzz on 10, equalizer
Amp Cranked, Fuzz on 5, equalizer
Amp Cranked, equalizer
Amp Cranked
(straight into the amp)
And here are some pics...
Backplate removed...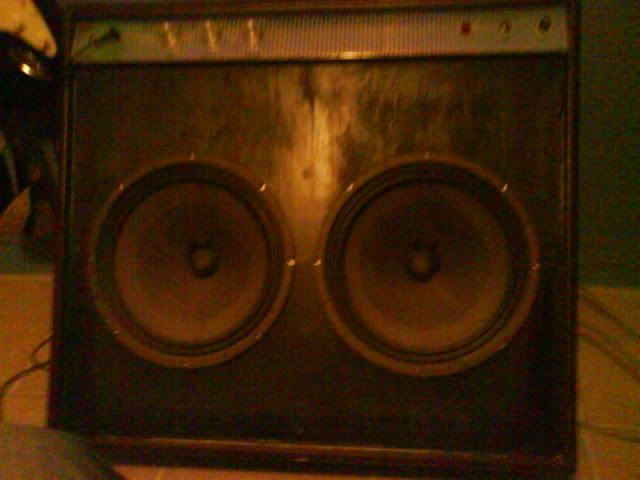 Grill removed...
Hope that'll help you...
There's also one really wierd thing that I've experienced lately, when we're rehearsing with our band or just play the amp cranked, it can suddenly remove away like really much volume and then suddenly, it comes back after a couple of minutes...
What could this possibly be? Really ennoying when we're rehearsing for example because suddenly you can't hear my guitar (at least not with all the other instruments too) but then its fine again.
I mean, it's not turning totally quiet, just takes away like half of my volume...


Join date: Mar 2008
780

IQ
i would say it may have a blown tube.

....oh wait.

sorry man but your new pics didn't help all that much but i'm pretty sure that is solid state. And what is behind all that cusion just the speakers?

also, my PC didn't like your audio clips. unknown file type and i couldn'd find an app to open them with.

this isn't working out so well is it?

Join date: Aug 2007
370

IQ
Here is how you find if it's tube.

Turn it up extremely loud and if it sounds heavenly, it is tube. If it sounds like farts, SS.
not always.
my blues deluxe has some worn tubes (i still don't know if it's the preamp or the power amp, i think it may be both...) anyway, if i crank it so it overdrives quite heavily ('bout 8 on the volume knob or so), it
actually
sounds worse than my vox da5 cranked up.
and the vox can sound half-decent when it clips.
there goes your theory

(ps. yes i'm gonna get my ass in some shop where they have the tubes i want asap

)
Last edited by The red Strat. at Jun 18, 2008,
Cool amp. Congrats

Could you upload some clips in a more universally accepted format (like, uploading the MP3's to your UG profile)?