Pine Cones.
Hello, UG.
First of all, let me just say that I live in a country-type area that is mostly surropunded by farms, fields, and occasionally a small town. Our property, being fairly large, as a fair amount of trees on it... not to mention our gardens, and other assorted vines/ bushes. We mainly have Apple and Maple trees, but there are a few PINE trees.

I'm fine with pine trees, I really am. They're nice, support some cool wildlife, smell okay sometimes... but the ONE thing I hate about trees. Just one thing, that doesn't really apply to all trees, just pine... is that they shed alot of needles, which is acceptable... I can understand that, that's what they do... but the pine cones is what really grinds my gears.

The pine cone of a tree is ultimately useless if you think about it. The tree will produce hundreds of these cones that take a really long time to decompose, great a mess, and are actually a hazard. They are useless because they cannot grow under the tree! I'm sure you all nkow that pine trees release chemicals that doesn't supports grow under them.

Pine cones are a hazard for a couple reasons. 1- you CAN trip over them. I've seen it.
2- they get caught in lauwn mowers and shoot everywhere. THis year, after winter, we decided to clean up all the cones that the tree had produced all last summer, and had dropped last fall. This is a VERY long process. Not only are there hundreds of them, but when you put them all into 2 big garbage bags, they weigh quite alot. So anyways, when I was "finished" cleaning them all up, I realized that there are still hundreds of WET ones in the ditch, sitting there, and clogging.

Anywho... they piss me off. Thanks.
Thanks for the info; I'll keep away from pine cones from now on

Join date: May 2008
10

IQ
ever try grabbin one off a tree with your bare hand?
those pine cones are much much sharper than you would first think

Join date: Jul 2007
31

IQ
I actually admire you for this.

Join date: Jul 2006
286

IQ
We should start a group and try to swart those bastards forever!
yeah, Michigan has a ton of pine trees. When i was in the fourth grade, there were two groups of friends having an argument which led to pine cone throwing. needless to say, thus began the Great Pine cone war in which everyone got blue slips and one lunch detention.
I actually admire you for this.
Thank you.

Join date: Dec 2003
10

IQ
why would you be using the lawn mower around pine cones if nothing can grow around the tree?
Have you not discovered the ways of the sacred flames?

Cast them upon the pinecones that wrong you.

Join date: Dec 2006
30

IQ
I was sitting under a pine tree once and there was a squirrel in the tree and it threw multiple pine cones at me. No joke. That thing didn't want me to be living.
Yeah I once had a chipmunk throw chestnuts at my head. It's adorable, but dangerous at the same time.
Dude i hear you! I have 5 pinetrees strategically located on our property to most effectively cover our lawn with the most pine cones possible!

Join date: Jun 2007
10

IQ
I have the same feelings about pine cones. They're dangerous!
I'm guessing that this is mainly a Canadian/American issue

Join date: Apr 2008
10

IQ
Well dont complain until they start trying to kill you.....****ing widow-maker pine cones are scary ****....
ever try grabbin one off a tree with your bare hand?
those pine cones are much much sharper than you would first think
My brother threw one at me one time, it hit me in the arm and made this cool shape.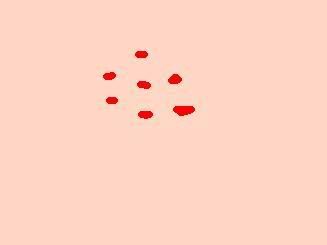 It looked something like that.
How could that have possibly happened?

Edit: Oh, okay, I understand.
Last edited by Fryer Mike at Jun 14, 2008,
To be honest though, Pine cones are a good fuel for fire.
Pine cones smell fantastic when being burned in an enourmous pine cone fire.
They help support wildlife. Its part of the ecosystem.
Animals such as squirrels use them for food (well some types at least, maybe not all, I don't know), and animal activity like this spreads the pine cones away from the 'parent' tree, scattering the seeds, allowing more trees to grow, which in turn creates further habitats for other animals.
The pinecones have to be THE most ecologically unimportant pod in nature. They do not make for good food. Animals don't eat them. The only think I can think of if a bird using them for some sort of nest support.

Pine trees should have a different seed/pod.

Join date: Sep 2006
30

IQ
F
uckin' pine cones think they're so tough.

Join date: Mar 2007
10

IQ
am i angering you?
I know what you mean. Then they use self-destruct and it hurts like a bitch.
I eat that **** for breakfast, lunch, and dinner.

Join date: May 2007
20

IQ
Dude, Pine trees must be so impotent. You see, like, 5000 pine cones around 1 tree and no new little trees sprouting up.....which means.......


PINE TREES ARE MASTURBATING!!!1!!!!111!!1!!

Join date: Sep 2006
30

IQ
QQ more about pinecones???

Good job.

Should be "Nature's" though.

Join date: Jul 2007
61

IQ
Burning pine cones is good for the environment?
I didnt know that was gonna come!