3rd string issue
on my strat copy, the third string likes to pop out of tune randomly and it really bugs me.
The tuners aren't the best but this string will drop a quarter step out of tune randomly. Im not sure what the problem is, but I think the screw hole in front of the saddle is stripped, would this have anything to do with it.

P.S. is there anyway to fix that stripped hole, i'd prefer not to spend a ton of money doing that.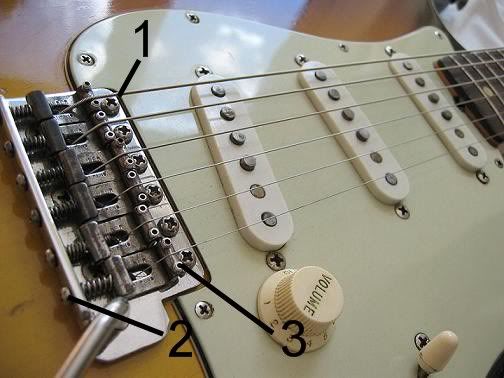 the screw nearest which number?
and most likely, the tuner isnt or the stringing technique isnt very good.
restring, check for loose tuner, and lube the cut in the nut with a pencil.
the screw on the third string
ok, 3rd string, but where? the back, top, or front? or 2, 3, 1 in the picture?

thats REALLY important.
do you mean similar to the screw, as pointed to by # 2?
im not sure what you mean by 3, 2, 1 but i'll give a description of where it is. The front of the guitar, the third screw in front of the the saddle on the third string in between the pickup and the saddle. The screw is on the bridge.

sorry, im not trying to sound arrogant but i'm still learning how to fix my guitar.
ok then, when you look at the picture i posted. doesnt that seem to describe the screw holding the bridge onto the body of the guitar?

and i labeled that type of screw # 1. do you see the numbers on the picture above?

i put them there, because from time to time a guy isnt sure which screw he's turning.

anyway, dont worry about it, that doesnt seem to be the problem.

just restring, lube and check the tuners at the headstock.