P bass (Correct?)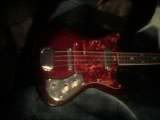 Is this picture correct, or is it upside down. This pickup is the only one ive seen like this.
What I mean by correct is, would the red be the + and the black be the -?
it depends on the manufacturer. and if its your only pickup, it shouldnt matter. but someone who knows should correct me.
If there isn't another pickup then it shouldn't matter. Although black is usually - while red is usually +. Sometimes they like to change it up a bit though

You want the two parts to be reverse wound and reverse polarity.
Lol, I just always thought that if done wrong, it would fry your pickup. Thanks everyone.